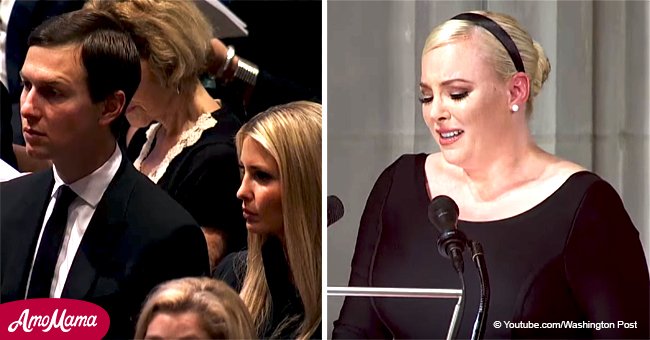 Meghan McCain didn't expect to see Ivanka at her dad's funeral as she gave an anti-Trump eulogy

Although she never mentioned Trump's name during her father's funeral, Meghan McCain used her eulogy to strongly criticize the US president's politics without imagining that Ivanka was going to be there.
34-year-old Meghan McCain just made the revelation in a yet-to-be-published interview with Porter on which she opened up about her feelings six months after Senator John McCain passed away at 81.
"The America of John McCain has no need to be made great again because America was always great," the TV host said in reference to Trump's slogan, with Ivanka and her husband Jared Kushner in the audience.
"I didn't know they were coming, I didn't know until I saw them there. I looked over and saw them and well… they got to listen to what I had to say."
-Meghan McCain, People, February 6, 2019.
While Donald Trump was not invited to his political adversary's service, Meghan was not sure if his daughter and son-in-law did or just showed up.
"Even though it was a very public funeral, we are still a family. It was important to me that we kept it respectful and calm and not politicize it," Meghan's mother Cindy told BBC.
According to the New York Times, it was Senator Lindsey Graham, who is a friend of the McCain's, the person that invited Ivanka to attend the ceremony since she expressed his condolences to him when they met.
"Look, I'm sure [the McCains] had final approval of everything, if they had it their way — as was evident in the tone of the funeral — they probably would rather not have had anyone from the Trump family present," "The View" co-host Abby Huntsman said afterward.
Donald Trump's attacks on the late Senator has not stopped even after the politician and war hero's death. It has surfaced that Trump made some negative comments about John McCain hours before his State of the Union address.
"By the way, he wrote a book and the book bombed," Trump reportedly said about McCain's last book, which was published in April 2018 and became a bestseller.
"The president's obsession with my father 6 months after his death is pathetic and telling - even at a time when he should be focusing on his message to the American public and the state of our union - the greatness of my father's life and legacy haunts you," Meghan tweeted on February 5.
On February 6, during that day's episode of "The View," Meghan talked about Trump's comment about her father, calling him out for trashing his political rivals just hours before calling for "unity" during the State of the Union address.
"You aren't being bipartisan mere hours earlier obsessing over people you consider your enemies," Meghan said about Trump.
Meghan has had a very difficult time coming to terms with the death of her father, and she has taken to social media frequently to share her feelings and memories about him.
But when she said that she "hated" the US without her father's leadership, she infuriated many Twitter users who didn't think twice before sending tons of hateful messages to her.
Please fill in your e-mail so we can share with you our top stories!