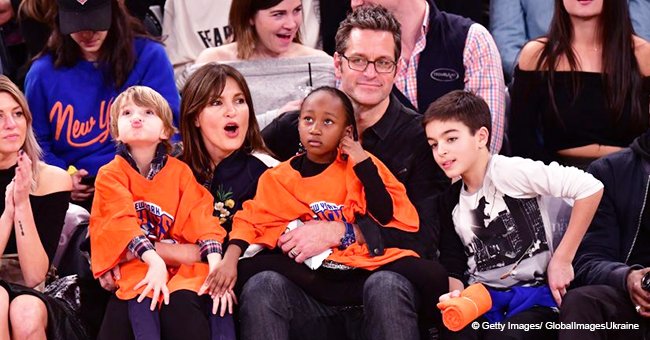 Here's How Mariska Hargitay Has Only One Biological Son Though She Is a Mother of 3

Motherhood may seem easy, but it is one challenging journey. This is what Hollywood actress, Mariska Hargitay, and husband, Peter Harmann, had to go through to have their three lovely children.
Being one of the leading actresses from the legal show, "Law and Order," Mariska Hargitay can be said to be one of the most prominent faces on television. She is a proud mother of three beautiful kids, but only one of them is her biological child. This is how she ended up with her three adorable youngsters.
In 2012, "Good Housekeeping" was graced with the opportunity to peep through the world of the actress and her husband, Peter Hermann. The actress had just turned 48, and Peter threw her a surprise hayride-themed party. Still, in the merry mood, the mother of three candidly answered all the questions thrown her way.
2011 was a big one for the Hermanns. In less than one year, the couple who had tried in vain to adopt finally welcomed two children through the means; daughter, Amaya, and son Andrew came six months after his sister. The children came after Mariska and her husband gave birth to their biological son, August, in 2007.
Hargitay tells GH:
"August thinks this was all his idea! He said, 'I want a baby sister,' and Amaya came. Then he said, 'I want a baby brother,' and Andrew came. August is feeling pretty good and pretty powerful!"
After they had their first child, the stars knew they wanted more. But Hargitay had August at 42, which means having more kids naturally would be more challenging for the couple. So they decided to use an agency.
"August wanted siblings, and Peter and I both envisioned this big family because we both come from that. Plus, we just had so much love to give. I was really letting the chips fall as they might, because I do think so much is up to God."
The process of getting a child wasn't what they had expected, and it took a toll on Peter and Mariska, but they never gave up. Reminiscing about all what they had to go through to get her kids, the mother added;
"I'm not gonna lie; there were wrenching moments. I say to everybody, 'Adoption is not for the faint of heart.' "
Years later, Mariska told PEOPLE how grateful and glad she is for her family.
"Our family is so perfect, or at least perfect for me. Together we're just this whole, happy, joyful, chaotic, crazy unit. I've never known anything that was more right," she said.
Peter, 51 and Mariska, 55 met on the set of "Law and Order: Special Victims Unit" in 2001. The good-looking couple got married in 2004 and have lived happily ever after.
Please fill in your e-mail so we can share with you our top stories!