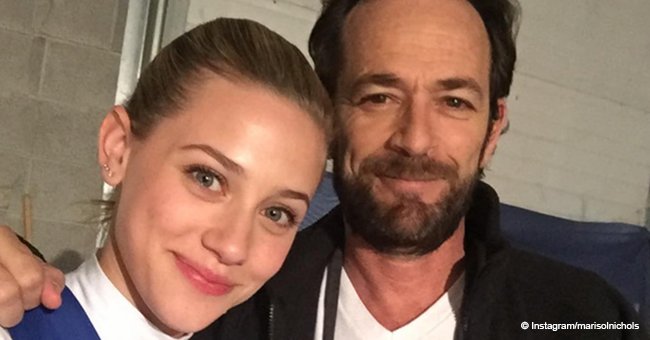 Luke Perry Receives Support and Prayers from His 'Riverdale' Co-Stars
Luke Perry of the famous Riverdale series got rushed to a hospital on Wednesday. Many of his co-workers like Lili Reinhart have taken to social media to wish him a fast recovery.
Emergency medical services were alerted on February 27 after Perry suffered a massive stroke in his California home. The news has the media shaken with close friends of the actor taking to Instagram to share their prayers for him.
Perry's representative informed CNN that "Mr. Perry is currently under observation at the hospital." He, however, said nothing else to ease the curiosity surrounding the hospitalization.
Luke Perry plays the role of Fred Andrews on the CW TV series, "Riverdale." Playing Andrews, the father of one of the main characters, Archie Andrews, has endeared Perry to the hearts of many. He stars alongside other sterling actors like Mark Consuelos, Mädchen Amick and Skeet Ulrich.
Since delving into the entertainment scene in 1982, Perry has starred in numerous films and TV series. One of his most famous works remains Beverly Hills, 90210 which he did at a time when he was considered a sensational teen idol. He is well loved, and the supportive messages from his co-workers and fans are enough proof.
Shannen Doherty, who also starred on 90210 took to Instagram to send him heartfelt wishes. His current co-workers also sent their love, and the long list includes Cole Sprouse, Lili Reinhart, Marisol Nichols, and Skeet Ulrich.
Reinhart, alongside a photo of herself with Perry, wrote:
"Thinking of you, Luke. And praying for your safe recovery."
Sprouse, known for his photography skills, shared a sweet black and white photo of himself with a smiling Perry with the caption: "Love you bud."
In the same vein, Marisol Nichols, who also plays a parent on" Riverdale" shared a selfie with the note:
"Thinking of this amazing man, We love you, Luke."
These are just a few of the many, but one particular post to adore is Skeet Ulrich's. He shared a photo of Perry wearing a cowboy hat while standing in a pool. The cheery smile on his face seems so happy, and Ulrich's caption is just right as he expresses that he's looking forward to seeing Perry well again:
"Waiting for ya brotha!! Someone has to man the grill for me."
Going by the shocked and saddened reception the news has gotten so far, there is no doubt that Perry is a fan favorite. We hope and pray for a speedy recovery.
Please fill in your e-mail so we can share with you our top stories!