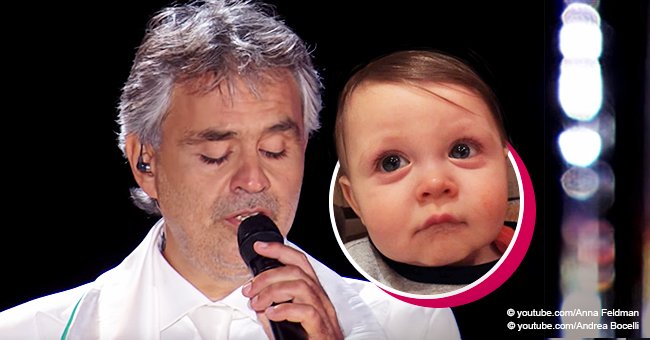 Toddler Couldn't Hide Feelings after Hearing a Magical Performance by Andrea Bocelli
Little Baby Abriel's emotional reaction to Andrea Bocelli and Elmo's rendition of "Time to Say Goodnight" gets over two million hits by adoring viewers.
The video on YouTube shows baby Abriel wide-eyed and enthralled by the music while watching a Sesame Street clip of Elmo and special guest famed Italian tenor, Andrea Bocelli.
The famous original song, "Time to Say Goodbye", was revised for the Sesame Street production to include lyrics meant for children. It is a technique used by the show to expose the children viewers to the songs and classic melodies while using words and lyrics relevant to their daily tasks and environments. It is a fun way to help them shift from one activity to another, or in this case, get ready for bed.
"Time to say goodnight,

Relax and close your eyes

You need to get plenty of rest

You've got a full day tomorrow…"
It was at the moment of hearing Andrea Bocelli's voice that baby Abriel reacted with intense emotion, tears welling up in his eyes, and lips puckered to hold back sadness.
Bocelli, from Lajatico, Italy, sang the original duet "Time to Say Goodbye" with Sarah Brightman. He became an international star with the song, "The Prayer" which was a duet with. Celine Dion.
He recently married his second wife, Veronica Berti, after they welcomed their daughter Virginia in 2012.
Bocelli has two older sons, Amos and Matteo, from his first marriage.
The tenor's 21-year-old and youngest son, Matteo Bocelli has followed in his father's footsteps and is now a tenor and musician, as well, and has shared the stage with his famous dad.
The pair recently received a standing ovation at the Sanremo Festival held at the Teatro Ariston in Sanremo, Liguria, Italy. The event was aired on the Italian Broadcasting channel, RAI.
Please fill in your e-mail so we can share with you our top stories!