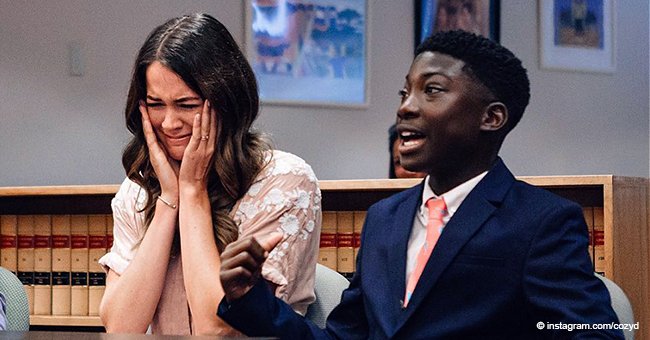 Foster Mom Can't Stop Crying after Boy Interrupts Judge to Say Why He Wants to Be Her Son
Going into the court to finalize the adoption of the two boys they had been fostering, Sara Cozad was most concerned about keeping 6-year-old Michael calm during the proceedings.
However, it was his brother Michael's heartfelt speech that stole the show leaving Cozad in tears. Cozad said:
"We fell in love with Dayshawn the second he opened his mouth."
Cozad and her husband Stuart Shank first fostered Michael and met Dayshawn during a supervised sibling visit.
Dayshawn told the judge, speaking about himself and his brother, who was also adopted that day:
"They all love us. We love them. Our whole family is the best thing we ever had. I'm glad to have these people in my life. I'm glad to be their son."
He added that Cozad and Stuart Shank was the best thing he ever had, and if he "could wish for anything in the world," he wishes to "just love these people for the rest" of his life.
The adoption was approved in August 2018, and the family celebrated together. They shared a limo ride and doughnuts before having a party with family and friends. Cozad said:
"No child should feel grateful to have a family love them. It should be a given."
They are very different kids, with Michael more reserved and Dayshawn more the entertainer in the family.
Cozad and Shank have fostered 14 children will continue fostering now that they've officially adopted Michael and Dayshawn.
They currently have a 14-year-old boy they're fostering and are in training to take in victims of sex-trafficking.
On a similar note, a California attorney joined ancestory.com to look for his father. He received a surprise when he found a match on the database.
The match wasn't for his father though but rather his daughter he never knew existed. Ted Wood was a sperm donor for some spare cash while at college.
To his surprise, he was contacted by Melissa Daniels from Arlington, Texas, letting him know that he was her biological father.
She sent him a message, thanking him for the donation he made decades before. While Daniels had recently lost her mother and she was eager to learn about her extended biological family.
Woods eventually met his biological daughter, and though he has no illusions of being a father to Melissa, he was happy to meet her, and she has now also met the rest of his family.
Please fill in your e-mail so we can share with you our top stories!