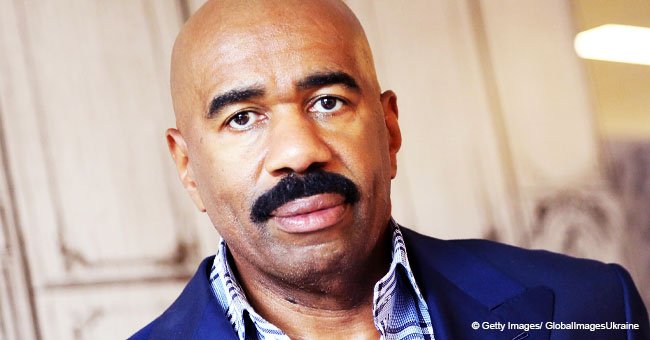 Sheryl Underwood Speaks out on Steve Harvey after His Controversial Interview with Mo'Nique

A lengthy interview with Madamenoire sees Sheryl Underwood reveal her thoughts on Steve Harvey's controversial interview with Mo'Nique.
Lifestyle website, Madamenoire recently interviews the stunning Sheryl Underwood. They discussed everything from her brand endorsement with Metamucil and how it aided in her health journey to the importance of getting involved to help HBCUs.
Underwood candidly revealed her feelings on politics and even opened up about her friend, Steve Harvey. She gave the interviewer a glimpse into their friendship.
At first, the interview was kept light. They discussed her endorsement and then began discussing those who endorsed products they had never tried.
"There are many celebrities endorsing brands, with companies assuming that their fans trust what they're saying. You've built your own community of supporters who find you authentic and trustworthy, something that I'm assuming attracted Metamucil to you. Have you been intentional in building your brand?" asked the reporter for the site.
Underwood succinctly replied, "I'm glad you said that. I knew I was going to be in the entertainment industry, even as a child; but along the way, I told myself that I would be sincere, authentic, and trustworthy. Even when I've stumbled and made not-so-good comments like the one I made about natural hair, I've apologized because I work hard to serve my community. I'm intentional about building honest and sincere relationships."
The interviewer jumped on her comments and allowed it to change the direction of the interview. The next question asked if she was referring to the controversial comments she had made on The Talk about nappy hair.
She had publicly apologized for the incident and openly admitted that she was joking. However, the interviewer wanted to know if she regrets speaking her mind.
"I definitely regret it. When that happened…when I said that… I was thinking, "Damn, that's not what I meant to say." And I knew I needed to apologize. I asked my brother Steve Harvey if I could come on his show to apologize because I wanted everyone in my community to know that I didn't mean it in that way. I know there are some people that will just never forgive me," responded a sincere Underwood.
At the mention of Steve Harvey, the interview took an interesting turn. The interviewer pressed her for details on her thoughts about the comments he made when interviewing Mo'Nique on his show.
During the interview, he suggested that she should put integrity to the side and only worry about making money. Steve quickly apologized saying he misspoke but Mo'Nique slammed him in a video and called him a "sellout."
"Steve was trying to help Mo'Nique and he ended up looking worse. He was trying to say, if you have people who are depending on you, you can't mess up your money that easy. I get it. I have people depending on me with my company and my nonprofit. So I can't mess up this CBS and Metamucil money, because I use it to fund other things that help people," replied Underwood. Adding, "If Mo'Nique was coming at Lee Daniels, Oprah Winfrey and the Netflix folks like she was coming at Steve on his own show, I would have told her no, too. You have to look at it like this: If everyone has a problem with you, how are they all the problem? It doesn't make sense."
Please fill in your e-mail so we can share with you our top stories!