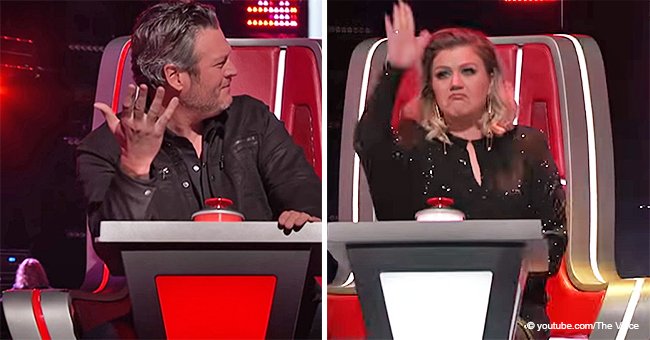 Kelly Clarkson Instantly Pushes the Button after 'The Voice' Contestant Barely Sings 3 Words
Season 16 of "The Voice" is off to an exciting start with Kelly's quick choice and wish granted in singer Karen Galera.
In the first batch of blind auditions on February 26th, Kelly Clarkson makes an immediate spin for singer Karen Galera who performed the Spanish song, "Mi Corazoncito" by Aventura. Clarkson was smitten and even said, "Please pick me!", and proceeded to explain why she hit the buzzer after hearing the first three words of the song.
"I heard the first three notes, and I was like, love that tone. I know she can wail. And I love that you're singing in Spanish. I love that you did the whole thing in Spanish. I'm in love with you. Please pick me! Please! I picked you within seconds."
Adam Levine added that Clarkson would be sad if Galera didn't choose her as coach "because all she does is talk about wanting someone exactly like you."
A 19-year-old singer, Karen spent her early years growing up in Mexico before moving to Dallas, Texas. Her difficult childhood was made easier by the strong presence of her older brother Erick. He was also her main influence in the music she learned to like. With Erick in the military now, Karen helps her mom by working full-time at a job recruitment company.
Karen picked Kelly after a few suspense-filled moments. Aside from both ladies hailing from Texas, Karen revealed that she and Kelly also share the same birthdays.
Newcomer judge, John Legend, also placed his bets on Karen Galera. He spun around soon after Kelly did and tried to make his pitch to Karen by sharing how he loved her from the very beginning. But Legend made everyone laugh when he explained that it took him longer, than it took Kelly, to hit the buzzer because he likes to take his time, just like it took him five years of dating before he proposed to his wife, American model Chrissy Teigen.
The multi-awarded singer and his wife shared some screen time in an ad for Season 16 of the show. John said of the season premiere, "It's my first day at school!"
The power couple has two children, two-year-old Luna, and 7-month-old Miles.
John recently turned forty and celebrated with a James Bond-themed party with family and friends. Chrissy went full throttle with the milestone party details by turning their home into a casino and dressing up like a Bond girl. Their children were in attendance, too, with little Miles looking just like his dad in a fancy tuxedo.
Legend shared the event on Instagram crediting his wife for the ultimate 40th birthday party.
"Saturday night, my amazing wife threw me the most incredible 40th birthday party I could imagine! So good to be surrounded by family and loved ones. I had the time of my life. I'm so grateful. And the photo booth? The greatest of all time (in the Instagram era, that's like 90% of party planning, right?)"
Please fill in your e-mail so we can share with you our top stories!