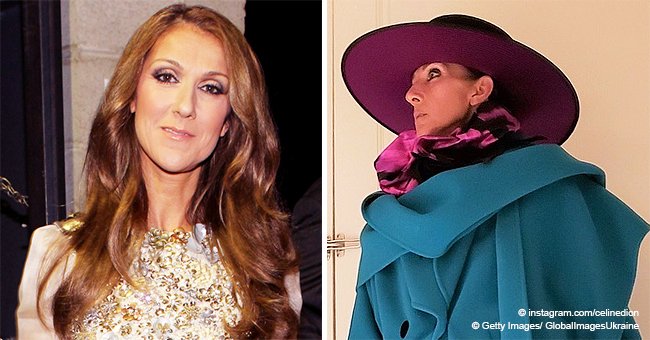 Celine Dion Combines Pink Leather Pants with Daring Coat, Her Kids Say She Looks like Mary Poppins
Celine Dion wows in a daring ensemble but is compared to "Mary Poppins" by her children. The singer who's set to release two biopics re-defines sophistication in her latest Instagram post.
She's an icon on the music scene and Celine Dion recently proved she's as much a fashion icon, though her kids beg to disagree.
Celine made a bold move this weekend wearing an oversized Marc Jacobs teal coat not many can pull off, but she did so with sophistication. Making sure she stood out in the crowd during Paris Fashion Week, she paired the coat from Jacobs' Fall 2018 collection with magenta trousers, a matching scarf, and a wide-brimmed hat. Completing her luxurious look, she opted to wear black leather gloves to match her Jimmy Choo ankle boots. The result was a stylish look worthy of being featured on the catwalk.
While Celine definitely earned people's nods with her edgy ensemble, she revealed her kids got a different vibe seeing her dressed that way. Captioning a photo of her outfit on her Instagram, she wrote,
"My kids said I look like Mary Poppins."
It's not entirely a letdown for her children to think she resembled the famous umbrella-toting character. Mary Poppins is an icon in her own right. Celine is very well the epitome of iconic where her vocal prowess is concerned. In fact, she's such an influential figure, her second biographic film is currently in the works because, let's face it, one isn't enough for a diva in her stature.
The film "Celine Before Celine" is reportedly directed by Marc-André Lavoie and will feature her early life, before she became one of the most famous singers in history. This project comes in the heels of another film currently in production and slated for a 2020 release date. "The Power of Love" by French studio Gaumont will depict the singer's rise to fame much like how Freddy Mercury's life was featured in the critically acclaimed "Bohemian Rhapsody."
Celine's films couldn't be timed any better since she'll be ending her Las Vegas residency at the Caesar's Palace this year. The 50-year-old powerhouse performer announced in September that her final show after two decades at the Colosseum will be in June.
Please fill in your e-mail so we can share with you our top stories!