Jeannie Mai's Ex-Husband's Girlfriend Accuses Star of 'Trying to Make up Things' to Get Attention
Jeannie Mai is called out by her ex-husband's girlfriend after her recent claims about her divorce. Linsey Toole lashed out on the star for lying for publicity and ended her message with a threat. 
Jeannie Mai triggered a switch that has now caused her ex-husband's girlfriend to speak up for the first time. Linsey Toole clapped back at Mai in defense of Freddie Harteis from the television host's recent claims. 
On Friday's episode of Mai's show, "The Real," she opened up about her divorce issues and the alimony she had to pay. Mai explained that despite Harteis being richer than her, she was forced to give a portion of her earnings to him as part of their divorce just because she was earning more.
"I was married to someone who had more money than me, but because I was the stronger earner and we lived in California — a shocking thing slapped me in the face when we divorced and I had to end up paying him my earnings."
She continued, 
"That really taught me a lesson today about looking out for myself."
Mai and Harteis, who were married for ten years before separating in August 2017 reached a divorce settlement in January. It was agreed that both parties would not be paying spousal support. But Harteis walked away with a one-time payment from the talk show host. The amount was not disclosed. 
EXCLUSIVE: "The Real" host Jeannie Mai has settled her divorce. https://t.co/ixbND6e4pz

— The Blast (@TheBlastNews) January 4, 2019
While this wouldn't be the first time Mai aired out her issues about her former husband on the show, this is the first time that her comments prompted a response from Toole, Harteis' current girlfriend and mother of his newborn.
She wrote a lengthy comment addressing Mai and slamming her for making up lies just to gain more ratings for her show.
"Looking out for YOURSELF is why you're STILL miserable. Your complete focus on YOURSELF is why you're DIVORCED. YOURSELF being the most important thin to you in the entire world is why you keep making up LIES for MORE attention."
She also accused Mai of continuously saying bad things about Harteis when he never once spoke against her.  
"Stop trying to tear someone down who has done absolutely NOTHING to you. Never one time has Freddy brought up your name or drug it through the mud where it belongs."
Toole believes Mai is simply using her sad story as a tactic to gain "more pity and attention."
"Every week you got some new dramatic story so that you can get more pity and attention. How many more lies are you going to make up before you are satisfied? Stop trying to make up things for people to feel sorry for you."
Powerful words came at the end of her message where she issued a threat to the television star. 
"I will speak the truth Jeanie. I'm pre warning you that I will tell what really happened if you continue to publicly lie and humiliate Freddy."
Furthermore, Toole threw shade at the TV star on her Instagram stories. She grabbed a clip from Mai's pronouncement on the show and labeled it "Fake News."  She also wrote,
"Ratings must be down again. Waiting on that alimony paycheck."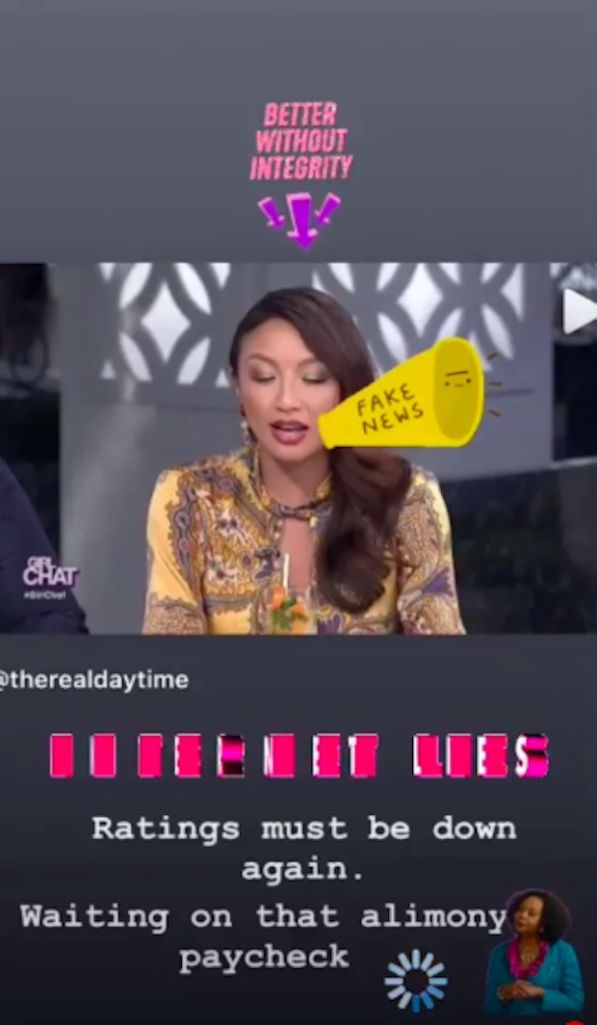 Mai has yet to comment on Toole's retaliation, much like she hasn't responded to negative comments about her treatment of her grandmother.  She recently shared that she helped her grandmother who lives in a nursing home decorate her room. Fans slammed the star for keeping the woman in a nursing home instead of finding a more comfortable place for her in her own house. 
While she kept silent about the issue, Mai did address comments about her rumored relationship with Young Jeezy. The pair raised questions when they were spotted together during her 40th birthday celebration. She clarified to her co-hosts that Jeezy was special to her but that there were no labels at this point.