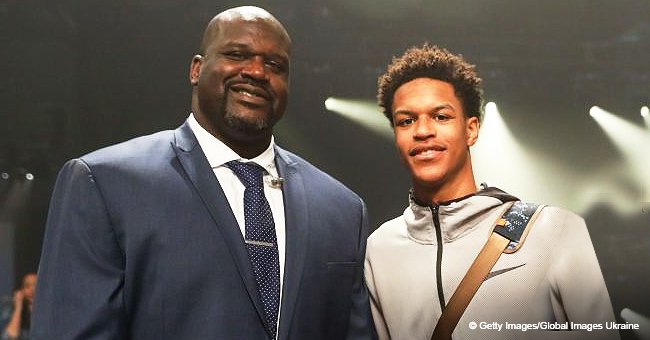 Shaq O'Neal's Son Shareef Reveals He's 6 Weeks Away from Return to the Court after Heart Surgery
While still recovering from a complicated surgery, Shareef O'Neal announced his return to basketball in just a few weeks. He also reveals the role his father, Shaquille O'Neal will be playing to assist him in his comeback.
Shaquille O'Neal's son Shareef O'Neal announced he'll be back on the hardcourt in a month and a half. The 19-year-old underwent surgery to treat a life-threatening heart condition and now reveals he's ready to return to basketball in just a few weeks.
Shareef sat out what would have been his freshman season with the UCLA Bruins after doctors discovered an irregularity in his heart. He complained of a funny feeling during summer training which led to the diagnosis. His condition required surgery or would prove fatal.
Shareef went under the knife on December 13. The next day, he shared a post-op photo in his hospital bed surrounded by machines and wrote,
"I made it, Thank you for all the love and support! I really appreciate all your thoughts and prayers, that's what helped me through this surgery. I'm on the road to recovery, and I'll be back soon...better than ever."
After a couple of weeks, he revealed proof of his surgery by showing off the long scar that ran through his torso from his chest down to his belly and deemed himself "Zipperboy."
Following weeks of recuperating, Shareef spoke to TMZ on Wednesday while leaving Staples Center. He declared himself almost at the finish line of his recovery when he announced his return to the hardcourt in six weeks. "I feel great," he said and added that he'll be embarking on his first workout session in just a few days.
Shareef also posted a photo of his game face on his Instagram and revealed his thoughts leading to his comeback.
"The face I make when it's almost that time to start hooping again time to shock the world. I had many horrible thoughts about this whole heart situation. The whole process was and still is sort of a pain, my middle name doesn't mean little warrior for no reason! Moms and pops ain't raise me to quit... The recovery will soon be over . chapter 3.... THE COMEBACK"
The Bruins could have used Shareef's expertise this season as the team is trailing with a 16-13 score. There's a chance they won't be part of the NCAA tournament if they fail to win the Pac-12 tournament this month.
With Shareef raring to be back on the team, here's hoping the next season would prove to be more promising. Shareef says his father will be playing a major role in his return because he "knows basketball" and that's a wealth of assurance.
Please fill in your e-mail so we can share with you our top stories!