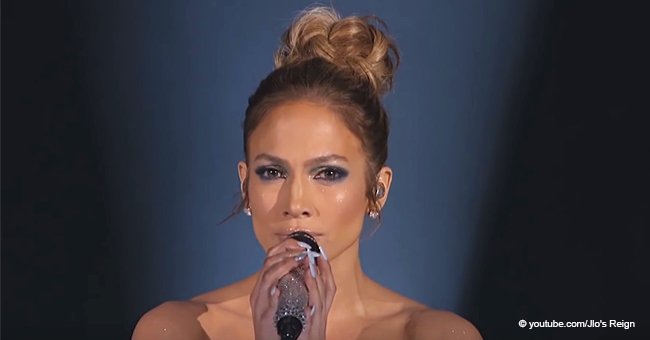 J.Lo Once Stole the Show in 40-ft Circular Skirt That Turned Her into Human Projection Screen
Jennifer Lopez in one of her most astounding moments in television history wowed her audience in an episode of American Idol in 2015 when she took the stage wearing an elegant white gown with a skirt that spanned 40 feet in diameter and became the canvas for a breathtaking show.
Jennifer Lopez is a style icon who manages to make heads turn and eyes grow wide with her stunning fashion moments. The woman is a trendsetter, pushing her limits with her bold and daring looks. Think Grammys and the Oscars and she's there, reigning supreme on the red carpet.
Because her fashion statements are timeless, we're looking back at one of the singer's most memorable dresses – the white gown with a 40-feet diameter which served as a backdrop for her performance in American Idol in 2015.
Jennifer stood at the center of the stage with a spotlight directed at her as a sea of white surrounded her, courtesy of her gown's magnificent skirt. It circled her like a pool of white snow extending up to 20 feet away. As she began to sing, the lights played around her and changed the color of her skirt as the beams shifted hues.
Singing the song "Feel the Light" from the film "Home," Jennifer's vocals was as breathtaking as the scenes unfolding beneath her. Images from the animated film began flashing on her skirt, creating an illusion of a movie screen. It was an epic performance which provided a beautiful aerial shot of the singer and the images projected on her cinematic dress.
According to stylists Rob Zangardi and Mariel Haenn, the concept for the vintage-inspired gown had already been in their minds for a long time and waiting for the right moment to be used. When they finally agreed to execute it on Jennifer, it took them two days to create. It came in two separate pieces – the main dress by Misha which provided the silhouette for the singer's torso and the skirt which was placed over it. They decided the dress should be elegant but simple so it could serve as a blank canvas to project images on. The result was astounding. Here's the clip from that memorable performance.
Lopez is no doubt not just a wonderful singer and actress but a fashion-forward star who makes the rules as she goes along. It's a plus that she maintains a jaw-dropping figure despite skirting 50. At the beginning of the year, she shocked the world when she shared photos in response to the 10-year-challenge. What a decade has proved based on the snaps is that she's even hotter today than she ever was. Here's what she posted.
Please fill in your e-mail so we can share with you our top stories!