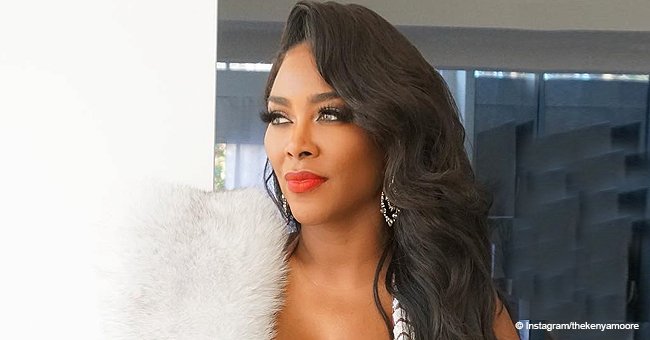 Kenya Moore Accused of Lightening Her Skin after Posting Gorgeous Photos

After Kenya Moore posted two glamorous photos of herself looking lighter than usual, her followers accused her of lightening her skin.
It's a given that Kenya Moore's fans shower her with praises every time she posts a photo on social media, but in her two recent photos, it wasn't just praise that she got. Her two selfies brought about criticism after it looked like she lightened her skill with bleach.
The reality TV star posted two close-up photos of herself smiling in the car, looking all glammed up. Kenya looked glowing in these two photos, but people chose to focus on the fact that it seems she whitened her skin as it didn't look natural on her. Her fans made sure to let her know their thoughts in the comment section of her post, saying:
"You are beautiful, WHY DO YOU KEEP LIGHTNING YOUR SKIN! You are chocolate are gorgeous!"
"Please don't be like Blac Chyna will all of her skin lightening products."
THE SKIN-LIGHTENING TREND
It's not the first time a celebrity is being accused of bleaching their skin, as Blac Chyna previously shocked her fans with a series of photos where she looked whiter than usual. While Kenya's case seems a bit more casual, Blac's was a bit heavier as in the past few months, she has also been posting advertisements for skin lightening products on social media, which does not help her case.
This skin complexion issue of the former "Rob & Chyna" star first came to light in October, when she posted a Snapchat video of herself looking so white. Her fans, just like Kenya's, decided to scold her about not embracing her true self.
With more and more instances of celebrities being called out for lightening their skin, the message of their fans remains the same: that they should not result to this, and that they should be embracing their natural beauties. This is because there are many young people who look up to these influencers, and sharing the wrong message with them might eventually lead to a whole generation resulting to bleaching their skins because their idols did the same.
Please fill in your e-mail so we can share with you our top stories!