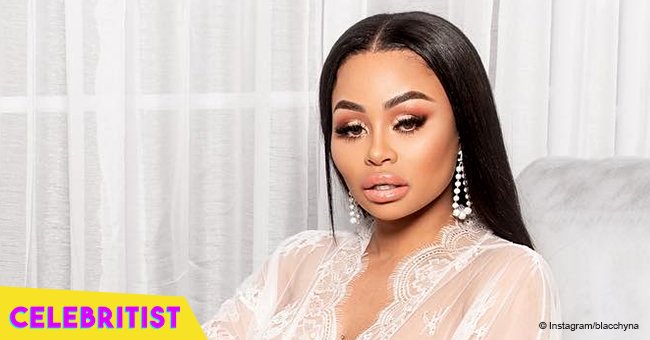 Blac Chyna gets slammed for bleaching her skin after sharing picture in purple outfit

The TV personality stepped out sporting a much lighter skin tone than her usual, shocking her fans online. Her complexion has been an issue for so long, that Blac Chyna has been accused of slowly having her skin bleached.
After she posted her latest Instagram update, Blac intensifies all these speculations given that she appears so much lighter than her natural skin tone. In the past few months, she has also been posting advertisements for skin lightening products on social media, which does not help her case.
This skin complexion issue first came to light last October, when she posted a filtered Snapchat video of her looking whiter than usual. This has caused her fans and followers to bombared her with hateful comments, saying she is not embracing her true self.
The snap that irked people on the Internet featured Blac's dagger-like manicure, painted with a metallic polish. The fans were quick to notice that her knuckles are showing it all, and that she has been "over-bleaching".
New of Blac Chyna getting bleached is yet another viral issue that surrounds the celebrity. Earlier this year, she was involved in a brawl at a local amusement park in Los Angeles, which resulted in her and another woman getting kicked out of the park.
The 29-year-old was filmed aggressively taking hold of Dream's pink stroller, her only child with Kardashian. She took hold of the stroller after getting into a heated conversation with a woman who reportely touched the child's hand while visiting Six Flags Magic Mountain in Santa Clarita last Sunday.
The ex-reality TV star was seen being held back by her boyfriend and another woman, knowing that letting her be would make a very big mess.
After the entire theme park scenario, Blac released an Instagram message on the same day explaining how a park-goer tried to physically touch her kid, which brought out her protective side.
"Being famous is hard enough dealing with scrutiny but when someone feels comfortable to come and touch your child it's a whole other story. I do not condone violence nor am I a violent person but shout out to all of the amazing mothers out there that will protect their children at all cost. Love, King and Dreams Mommy.".
Officials from Six Flags confirmed that after the altercation, both groups were kicked out of the amusement park.
Please fill in your e-mail so we can share with you our top stories!