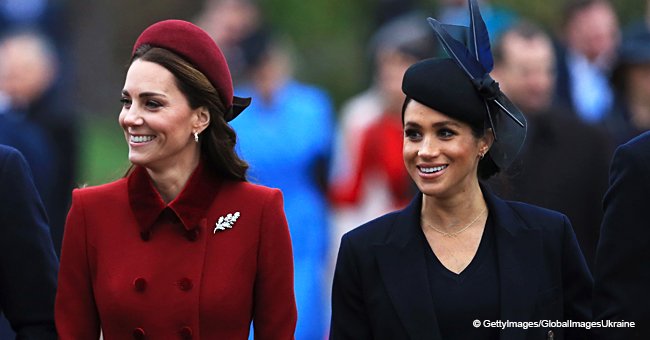 Meghan Markle and Kate Middleton Make Rare Joint Appearance for the First Time since Christmas
The 50th anniversary of the Investiture of The Prince of Wales got celebrated with a grand reception and brought royal members together for the first time in months.
Prime Minister Theresa May was one of the guests who honored the contribution Prince Charles made to the national life of Wales during the event.
Held at Buckingham Palace in the White Drawing room, the Queen organized a reception that saw fellow royal in-laws Kate and Meghan together for the first time since church service on Christmas Day at Sandringham.
With busy schedules that haven't overlapped and families of their own to take care of it occupies most of their time.
The two 37-year-old duchess's looked beautiful as Kate opted for flat green blouse dress with a button-up collar and ruffled sleeves and paired it with nude suede heels. Highly pregnant Meghan looked elegant in a floral embellished dress with an Amanda Wakeley coat.
Prince Charles looked rather fetching in a pinstripe suit with a patterned tie as he chatted to guest including the opera singer Wynne Evans and "Game of Thrones" star Owen Teale.
On July 26, 1958, Charles who was nine years old at the time, got named the Prince of Wales. But it wasn't until July 1, 1969, that the Queen officially invested him with the title at Caernarfon Castle.
The Letters Patent used for the creation of Charles as Prince of Wales as well as his ring, rod, coronet, and sword were on display. Students of the Royal Welsh College of Music and Drama kept old traditions going as they selected the top harpists to perform at the reception.
A lovely event indeed, and it hopefully gave the two Duchess's time to catch up in person while tending to their duties. Comments on social media already boomed around Meghan and Kate's appearance together at the reception, and because of social media abuse against them, the Royal family asked social media users to show some "courtesy, kindness and respect" when posting on their sites.
Escalating online abuse got to the point where the Royals released a set of guidelines for everyone to follow that wish to interact on their social media platforms. The guidelines ban all "obscene, offensive, threatening, abusive, hateful and discriminatory posts." Other sites have also tightened up on control over abusive posts, as one Twitter user already found out:
With the new guidelines, the royals aim at the creation of a safe environment wherein their millions of followers can interact with them on any of their social media sites without abusive posts and behavior.
Meghan's due date is approaching fast, and it is said that there are at least five ways in which Meghan and Prince Harry will raise their child differently to that of brother Prince William and Kate.
Please fill in your e-mail so we can share with you our top stories!