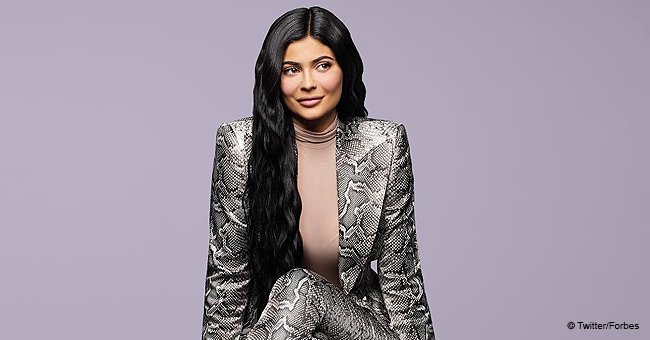 Kylie Jenner, 21, Named World's Youngest Self-Made Billionaire by Forbes

Kylie Jenner just surpassed Facebook's Mark Zuckerberg's record as the youngest self-made billionaire to date. The 21-year-old was officially given the title by Forbes Magazine after the massive growth of her company in less than four years.
It's official. Kylie Jenner is the world's youngest self-made billionaire as proclaimed by Forbes Magazine.
Jenner bagged the title after months of speculation that she was destined to hit the billion mark. On Tuesday, Forbes announced her inclusion in its annual list of billionaires and revealed she's now the youngest in the world to achieve the 10-digit status. At 21, she surpasses Facebook's Mark Zuckerberg who reached the billion mark at 23 in 2008. And it's all due to the success of her makeup line, Kylie Cosmetics.
Jenner herself was surprised by the growth of her company and the status she now claims having had no background in business when she first started it in 2015.
"I didn't expect anything. I did not foresee the future," she says in an interview with the publication that gave her the title. "But [the recognition] feels really good. That's a nice pat on the back."
Much of her net worth is due to the fact that her company thrived in a small overhead – having initially reached her market through online sales. She has seven full-time and part-time employees and the rest of the work is farmed out to different suppliers. Her products are manufactured and packaged by Seed Beauty while her sales platform is handled by Shopify. For finance, marketing and PR, she relies on the expertise of her mother who's also their family's manager.
Jenner's social media serves as her marketing vehicle with over 128 million followers to date. She gives credit to its massive influence in bringing her where she is today.
"It's the power of social media. I had such a strong reach before I was able to start anything."
Due to the success of her online venture, Jenner expanded and tied up with cosmetics distribution giant Ulta which launched her $29 lip kits in 50 states. The response was phenomenal. In six weeks, she sold $54.5 million worth of products after she visited a few stores and did her usual social media marketing.
Last year, Forbes projected her company was worth $900 million following a revenue increase of 9%. It was only a matter of time before she reached a billion. Now it seems that time has come.
Despite what she's achieved, Jenner has bigger plans for the company. When asked by Forbes what's up ahead, she says,
"I see [Kylie Cosmetics] going very far. I work really hard."
Like other cosmetics companies who made it big through Ulta, there is the possibility that a makeup giant could offer to buy Jenner's company. However, the young mom isn't open to the idea. This is in contrast to her mother who says she'd consider the option.
But since Jenner is the owner of the company and she seems to love what she's doing, there's still a lot she wants to explore on her own. As Forbes put it, "She is, after all, a selfie-made billionaire."
Jenner's financial success comes at a time when her personal life is in shambles. First, there was a cheating scandal involving her best friend, Jordyn Woods and Tristan Thompson. The latter is the father of her sister, Khloe Kardashian's daughter. Kylie was reportedly devastated by her best friend's betrayal which prompted her to cut the model out of her life.
Shortly after the news broke, Jenner faced another scandal involving her boyfriend and father of her child, Travis Scott. She reportedly discovered over-friendly direct messages with other women on his Instagram. Scott deleted his account to prove his loyalty to her but has now reinstated it.
Meanwhile, due to Woods' betrayal with someone close to the family, Jenner was forced to ask Scott if her former BFF ever flirted with him. The "Astroworld" singer assured her she never did and even professed his love for her during a recent concert in New York.
Please fill in your e-mail so we can share with you our top stories!