Single Mom of 9 Who Never Uses Condoms Reveals Her Kids Eat in Shifts as She Only Has Three Bowls
Sonia O'Lachlan is the single mother of 9 children all resulting from her strict no-condoms rule. A new documentary series has Sonia relating details about their daily living. 
Sonia's large brood ranges between the ages 1 and 19. The eldest child, Nicola is 19, Leah, 17, Shannon, 16, Keon, 14, Erin, 13, Kye, 10, Cana, 7, Lewis, 5, and 1-year-old Lexi. It is quite hard to come to terms with the number, but unbelievably, Sonia has yet another baby on the way! 
Sonia O'Lachlan stars in Me and My 10 Kids: Mega Families https://t.co/dDLqUDJdQG

— Sophie McCoid (@MccoidSophie) March 5, 2019
The O'Lachlans have become somewhat famous and gained the attention of the media after getting featured on the new Channel 5 documentary, "Me and My 10 Kids." Along with the O'Rourkes, the series will follow the lives of enormous British families. 
Unlike the O'Rourke couple, Sonia has raised her nine kids alone which you'd agree, is no mean feat! That raises a lot of questions about why she never uses protection. To ease the curiosity, she said:
"Some people say they're allergic to condoms. I can't say that because I've never used one."
You'd think she'd have stopped having intercourse! 
Speaking on the show, Sonia almost doesn't seem to mind the consequences of her actions. Her daily ordeals, however, managing all nine children is somewhat tedious, and it isn't made any easier by the fact that she is due to deliver her 10th child anytime from now! 
A heavily pregnant Sonia recounted the family routines every morning, explaining how they make do with every little thing they have. Like how they rotate meals because the family only owns three plates and how the kids have to wash at the kitchen sink because the sinks in the bathrooms get clogged frequently.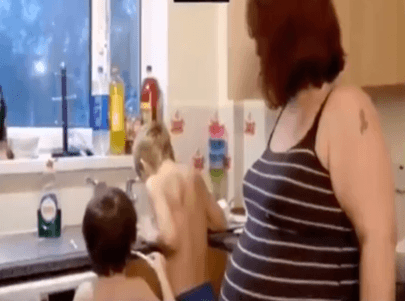 The O'Lachlans live in a four-bedroom council flat in Southampton with Sonia paying some €179 on rent. She heavily relies on benefits which include £460 child tax credit and having so many mouths to feed has her spending about £130 on food weekly!
If you thought Sonia's family was shocking, then you'd be stunned by Ziona's. The Indian man has the world's largest family, and it includes his 39 wives, 94 kids & 33 grandchildren! Ziona leads a Christian sect which grants men the opportunity to have as many wives as they want.