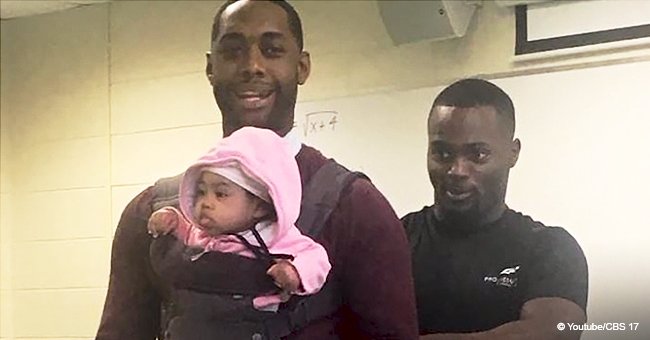 College Professor Goes Viral after Holding Baby in Class so Student Can Take Notes

The kind gesture that Nathan Alexander, a math professor at Morehouse College in Atlanta, Georgia, did went viral after a student photographed and shared the story on social media.
Nick Vaughn, one of the students, took photos of Alexander in front of a board while holding a baby girl. However, the child was not his daughter but one of his students.
In a Facebook post, Vaughn explained in detail what happened. A fellow student named Wayne Hayer got into the classroom that day holding his baby daughter, Assata.
NOBODY COULD TAKE CARE OF THE BABY
He told Alexander that he couldn't find a babysitter and nobody else could take care of her. Even though some professors wouldn't even allow him to be in the classroom with a child, Alexander went above and beyond.
Not only did he accept him but also offered to hold her so the student could take better notes. Alexander taught the entire lecture holding the girl and even stayed after class helping the students with their questions with the baby still in his arms.
Vaughn admitted that the teacher showed him the power and impact that historically black colleges and universities (HBCU) have on the Black community.
"It's acts like this one that I will see from time to time on campus that reminds me not only why I choose to come to Morehouse but also why this is such a great area for young black men to be in and there's no other place on earth like MOREHOUSE!" added Vaughn.
DETAILS OF THE KIND ACT
After the story went viral, CNN contacted Hayer, who explained that his wife had to run some errands and they couldn't find a babysitter on time. The man admitted to being nervous about going to class because Morehouse was an all-male college and everyone would look at him if he walked around holding a baby.
Alexander also talked to CNN and admitted that part of his role as an educator was to provide opportunities for students. Apart from that, he said that the viral moment was not about him, but Hayer's hard work.
"He works two jobs, is a full-time student, is involved in leadership programs at school and is a parent. This photo serves as a reminder of what parents have to do every day and how important it is to have affordable childcare," revealed Alexander.
Finally, the professor said that Assata was "really behave" and started falling asleep at the end of the lecture. "We enjoyed having her energy in class," finished Alexander.
PATRISHA ORGANO'S STORY
Thankfully, Alexander is not the only "hero" that has helped a desperate parent. Patrisha Organo, a flight attendant on a Philippine Airlines flight, noticed that an infant couldn't stop crying while on the plane.
When she asked the mother what the problem was, the lady explained that she was hungry and didn't have baby formula. Organo, who had given birth to a girl almost a year before that encounter, knew that she could help and offered to breastfeed the baby.
The mother accepted and, a few minutes after Organo started breastfeeding the child, she fell asleep.
Please fill in your e-mail so we can share with you our top stories!