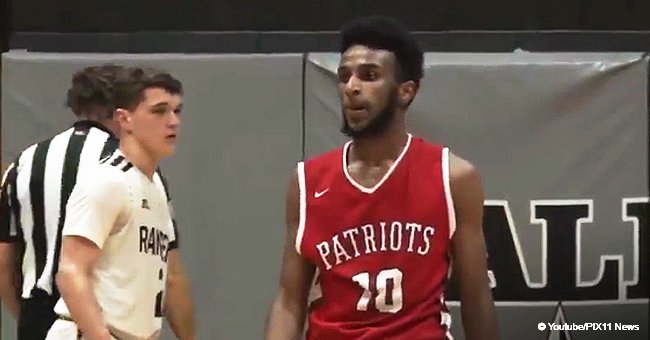 Black High School Basketball Player Heckled with Racial Slurs & 'Monkey Noises' during Game
A Black high school basketball player was traumatized after he was called different racial slurs and was taunted with "monkey noises" at a game he played with an impressive 20-point performance.
During the game, Nasir Dickerson was playing exceptionally well and this caused the home team to taunt him with racial slurs and jeers. His family continued to cheer him on despite the heartbreaking things they were hearing, but at one point, his father had enough. His dad was booted from the game and was escorted by an armed guard and the superintendent after it seemed as if he was starting a fight. It turns out, he was only standing up to the haters that were calling his son names.
The Dickerson family was extremely disappointed with the way the school handled the jeers, as the guards looked on and did nothing to stop it from happening. Because of this, the family filed a lawsuit against the Wallkill Valley Regional High School.
The 18-year-old's parents claim that their son suffered "considerable psychological distress, post-traumatic stress disorder, anxiety, and depression, among many other things," because of the incident.
All of this occurred during a game at the Wallkill Valley Regional High School in Hamburg, New Jersey on February 13. According to his family, the problem they see here, aside from the clear fact that adults were insulting a teenager based on his skin, was the fact that school administrators were present and they chose to do nothing about the racial harassment that occurred in their school grounds.
In the end, what Stefanie wants out of this whole ordeal is for her son to grow up in a safe environment where he is free to play the game he loves.
"It's horrible. He's a great kid, a good student. He felt like he was singled out because he's the only black boy on the team. He doesn't understand why this is happening to him."
People on the internet have reached out to the family after seeing the news about how he was harassed, and are calling for a thorough probe on the situation.
"Jesus Poe Cabrera: Terrible and unacceptable! Shame on the parents and staff from that school! That is taught at home!"
"Amy Emann-Evanchik: Unreal that no adult put a stop to this! Unreal people still treat other humans like this. Just crazy."
"Elena Martinez-Edwards The administration and the community members who attended the game disregarded the blatant disrespect and humiliation this young man & his family had endured. They should have been immediately and permanently ejected from this and future games. I'd say shame on you all but I'm going to guess they took pride in their idiocy."
Please fill in your e-mail so we can share with you our top stories!