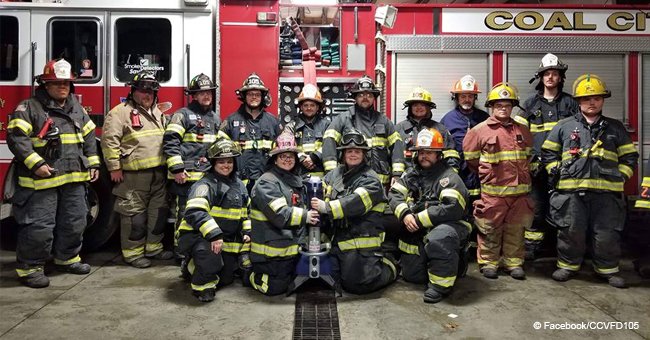 Firefighters Respond to Fire at Church and Find That None of the Bibles Were Burned
Firefighters in West Virginia were shocked and humbled to find that all the bibles in a burning church survived a massive fire.
On March 3, the staff of the Coal City Fire Department was called to put out a fire that was devastating the Freedom Ministries Church in Grandview.
According to their facebook post, it was around 12:58 am when they were "dispatched to assist Beaver VFD" with the burning structure. The task posed a risk we all know about in which the workers would put their lives on the line.
Luckily, no one was hurt in the fire. But there was an additional thing that happened that even the professional firefighters could not explain.
The post read:
"Though odds were against us, God was not. Picture this, a building so hot that at one point in time, firefighters had to back out. In your mind, everything should be burned, ashes."
In what felt like a miracle to them, some books survived the flames. But they weren't just any book.
The post continued:
"Not a single bible was burned and not a single cross was harmed!! Not a single firefighter was hurt! Prayers for the pastor and the congregation today."
The uplifting post was shared by over 43,000 faithful persons, sending the story viral. More than 4,000 people commented, with many other firefighters sharing stories of a similar nature.
The church's Reverand, Phil Farrington, is already looking ahead to new beginnings despite the loss from the fire. Speaking to the Washington Post, he said, "In the midst of the fire, God's word will always stand."
Another story coming out of Italy was described as a miraculous sight. At least one person captured photos of what appeared to be an image of Jesus floating over the sea in the town of Agropoli.
The figure was formed by clouds and shared online by Alfredo Lo Brutto. He said he was "enchanted by the view." The beautiful figure looked like the Christ the Redeemer statue of Brazil.
Back in October 2018, three girls were witness to what seemed like a confirmed miracle when they all saw the same thing. All three college students went hiking together.
When they climbed up, they saw a silhouette of a man with long hair wearing a robe. One girl jokingly said it looks like Jesus. Upon reaching the mountain's top, the girls found an envelope.
It asked, "Do you believe in angels?" Stunned, the girls also found a note and several hundred dollars bills inside. They said they would not spend it because they believe it had a higher meaning and purpose.
Please fill in your e-mail so we can share with you our top stories!