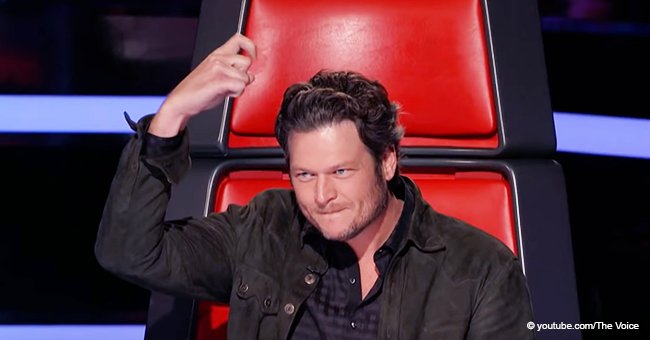 'The Voice's Eagle-Eyed Fans Spotted Blake Shelton's Bizarre Habit That Can't Be Unseen

During every season of "The Voice" country singer Blake Shelton display an unusual habit that some have trouble getting over.
Coaches on the talent show have a big responsibility as professionals and judges. They are mentors and guide their chosen singers to become the best artists they can be, and for every season since it's inception, that's what Blake did.
As one of two original coaches on the program, the country singer raked in more wins than any other on the show. However, he has a habit that does not go unnoticed, much the same as with the other original coach, Adam Levine.
Whenever Blake and one of the other coaches want the same singer on their team, Blake puts his bizarre habit into play in an effort to sway the contestant to choose him as a coach. Holding his hand above his head, he repeatedly points the finger at his head, and it's driving some netizens crazy:
Funny enough, Blake's strategy seems to work, mostly. The singer had been perfecting his finger pointing skills since season 1 and became so notable that "The Voice" decided to release a comical compilation of Blake's finger-pointing styles since the beginning of the talent show 15 seasons ago:
Predictably some show more tolerance for Blake's vote swaying quirk than others, while some even find it endearing:
Behavior like that is also bound to get under the skin of some, as another fan commented on Twitter:
But the reactions are understandable, everyone is different, and after watching coaches like Blake and Adam on the show year after year, you get to know their personality and habits on the show. After a while, repetitive behavior starts to stand out and unfortunately, you can't please everyone.
Adam Levine did not escape the scrutiny of quirks either, alongside Blake the pop singer starred as a coach on the show since episode 1 of the first season. His habit first got mentioned a few years ago, and it's still the same now. Fans pointed out that Adam sits the same way in every single episode of "The Voice" as one fan posted on Twitter:
The pop star developed a habit where he would put one leg over his chair's armrest, or prop it up against the console in front of him, or even on the seat at times as another fan commented more recently:
However, during the previous season of "The Voice," Adam landed himself in some hot water with netizens demanding he gets fired after his behavior on the show one evening.
Please fill in your e-mail so we can share with you our top stories!