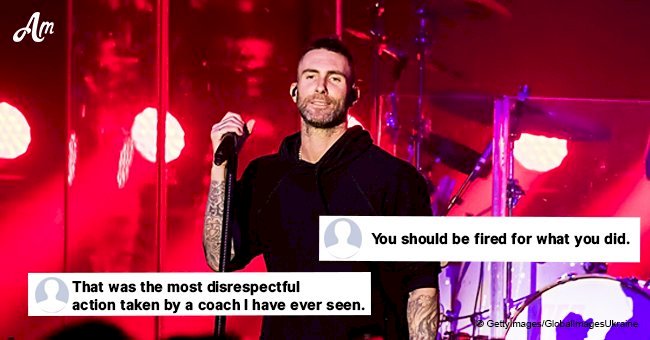 'The Voice' fans want Adam Levine to be 'fired' for his 'disrespectful' instant save decision
Adam Levine just angered tons of "The Voice" fans with a show of favoritism between two team members.
The singer is being bashed for his outspokenness in Tuesday night's episode of the competition. In a tense instance, two of his team members were in the bottom three.
According to Hollywood Life, the third bottom artist was Dave Fenley, part of co-judge Blake Shelton's team. Of course, Levine, 39, was in a tough spot with the situation.
Follow us on Twitter for more @amomama.
It was made worse by the fact that Levine's female artist, Reagan Strange, was unable to sing during the Instant Save segment.
Levine's other artist was DeAndre Nico, who sang "like a champ" for his part during the segment.
Following their performances, America was called on to vote for who they wanted in the Semifinals.
Considering Strange couldn't sing, Levine took it upon himself as her coach to root for her.
But it was the way he did it that ticked off many to the point where viewers are calling for him to be fired from the show.
Levine spent the majority of his time encouraging voters to save Strange. He made it clear that they shouldn't vote for DeAndre, effectively throwing his own mentee under the bus.
He said:
"I have two little girls at home. The thought of breaking [Reagan's] heart by not urging everyone to give this girl a shot to redeem herself next week would be too far beneath me."
He described Strange as "an unbelievably talented little girl. Then later added:
"I've gotta make sure that I represent her properly in this moment because she didn't have a chance to use her voice tonight, so I'm gonna use it for her as well as I possibly can to make sure she can make it next week."
Levin's actions are being described as disrespectful, disgusting, and unprofessional. Although he has some backing, an overwhelming majority of fans are strongly against the move.
Meanwhile, co-judge Kelly Clarkson was commended online for praising DeAndre's performance. However, Strange beat out her teammate in a very close vote.
Strange will join Kymberli Joye, MaKenzie Thomas, Kirk Jay, Chevel Shepherd, Chris Kroeze, Sarah Grace and Kennedy Holmes in the semi's next week.
Until then, fans continued to question whether Levine even deserves his spinning seat on the show. They are further questioning the rules.
Regardless, Levine is already signed on for the show next year. This one is his 16th straight season, but it may have been his worst for his reputation.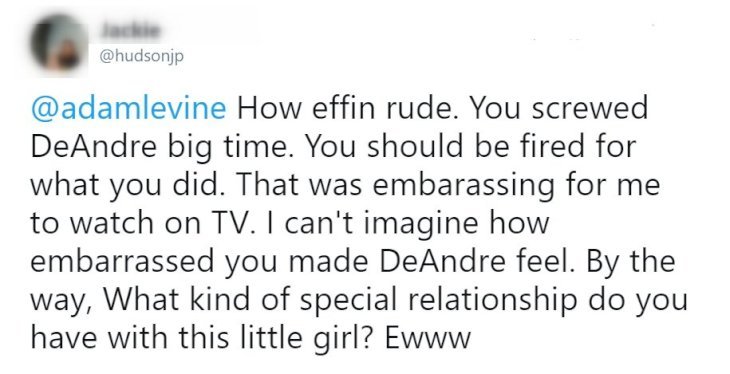 Source: Twitter/ Jackie
Aside from his work on "The Voice," the family man is married with two little girls. Dusty Rose, two, and Gio Grace, nine months, were who the artist had mentioned in the controversial episode.
His Victoria's Secret model wife, Prinsloo, is also a big part of Levine's life when he's not in the spotlight. The 30-year-old recently shared a sweet photo of the entire family as they played on swings.
Although a bit blurry, it shows that despite the negativity the singer is now receiving, he has a happy family to go home to every day. We still eagerly anticipate the outcome moving forward on the show.
Please fill in your e-mail so we can share with you our top stories!