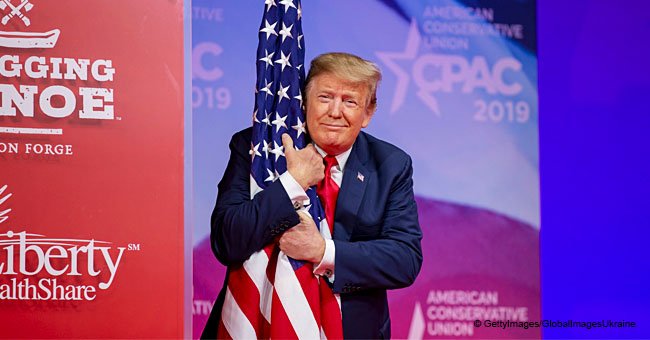 Stephen Colbert Roasts Trump after the President Hugged American Flag
The late-night show host wouldn't have missed the chance to mock the politician, and he created a fake ad about a call service for people attracted to flags inspired in Trump's PDA with the Stars and Stripes.
The Conservative Political Action Conference (CPAC) took place on March 6, with President Donald Trump as the star speaker. The head of state gave a two-hour speech and had a particular exchange with the US flag.
As the 72-year-old leader took the stage at National Harbor, Maryland, he felt compelled to give the flag a tight hug, and the unusual gesture was enough to fuel the creativity of the "Late Show with Stephen Colbert" to respond with a fake ad.
"Are you physically attracted to flags? Just can't keep your hands off? Then call today 1-555-HOT-FILF, where the naughtiest flags are waiting to talk to you.
-"The Late Show with Stephen Colbert," Twitter, March 4, 2019.
The satirical advert featured campy suggestive music and images of Trump hugging the flag followed by staged scenes of flags next to old-fashioned phones, and is narrated by a seductive female voice.
The LSSC tweet of the fake ad has been played more than 12 thousand times in a couple of days, and many users have replied with comments making fun of the episode.
"You forgot to keep the dog on a leash over vacation, it got after a flag," joked a Twitter user. "I bet he hugs the Russian flag the same way," another user tweeted.
"Surreal. And at the same time, a physical manifestation of the faux patriotism GOPers love to trot out," added someone else.
Trump felt confident in the right-leaning political meeting and used the opportunity to address his latest headaches, such as the Mueller investigation on an alleged Russian intervention in his presidential campaign, the proposal for a Green New Deal, and the failure to reach a satisfying nuclear deal with North Korea.
The US president compared the Mueller investigation with a "witch hunt" and made fun of Senator Ed Markey and Representative Alexandria Ocasio-Cortez's Green New Deal proposal.
Trump's appearance at CPAC 2019 marked the fifth time he attends the event and the third time he does so as the country's head of state.
In this year's speech, Trump credited Conservative Americans with "reclaiming our nation's priceless heritage, reversing decades of blunders and betrayals by the failed ruling class. America is respected again, and the world knows it."
Please fill in your e-mail so we can share with you our top stories!