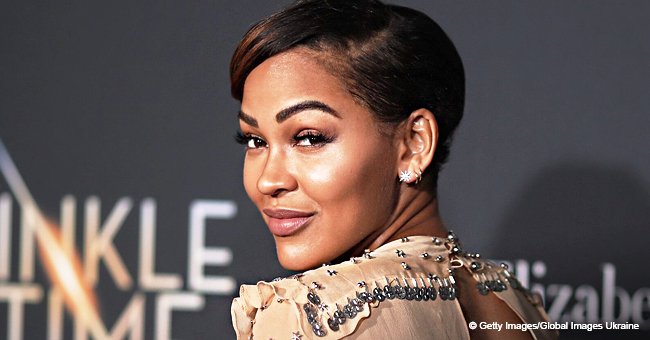 Meagan Good Finally Responds to Viral Photo of Her on a Dog Leash Held by Khloé Kardashian
People on the internet found a throwback photo of Khloe Kardashian holding Meagan Good on a leash, and they were just not having it. After realizing that the photo has reached so many people, Meagan decided to speak up about it and defend herself.
The spotlight has been on Khloe Kardashian in the past couple of weeks because of the Tristan Thompson and Jordyn Woods cheating scandal, and this meant people were looking to find dirt on her as well. As they searched, someone came across a disturbing photo of Khloe holding four leashes that were strapped to four black women. One of them was, unfortunately, Meagan Good.
It was a photo of Kardashian dressed as a pimp, and the photo already reeked of something negative, and people weren't about to let it slide.
While Khloe has said nothing about the now-viral photo, Good felt the need to defend herself from all the hate and questions she was getting, saying she was once "young and dumb."
"That one time on Halloween when you were young and dumb…and clearly didn't think 15 years ahead lol smh. Well, mistakes were made."
15 YEARS LATER
A good fifteen years later, Meagan is highly respected as an actress and has such a loyal fanbase. In fact, she made waves on the internet with her husband recently, after they decided to pause and pray at the near-empty Dolby Theater, where the Oscars took place later that day.
They prayed for everyone who watches their video, saying that their time is coming.
"Someone right now is frustrated, angry, mad, because they think that their time is passed, but right now we are praying that divine timing is taking over their life. Let them not be worried or frustrated or angry, but to trust that when it is time for them to be on the platform or the stage you've created, it would happen. Let them get in position. Let them show up. Let them not doubt you, dear Lord, but let them trust you right now. We pray that you will break the stronghold of frustration and in its place, out peace, put destiny and put preparation, dear Lord. Somebody watching this prayer right now is about to go to another level and take them there in your time. Let them know that your time is your time, and let them relax and let it all come to them, in the name of Jesus we pray. "
Since then, the video has been viewed more than 600,000 times, with thousands of comments saying "Amen" flooding the video's comment section.
With how Good's life has been going recently, it's hard to believe that she once took part in such a controversial photo with Khloe. The actress has clearly put that behind her, and would rather not remember it.
Please fill in your e-mail so we can share with you our top stories!