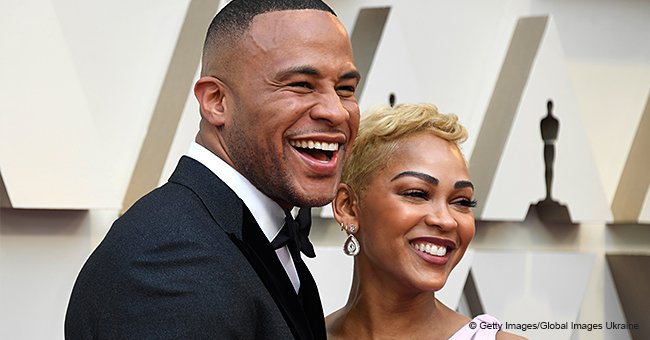 Meagan Good & Husband DeVon Franklin Say an Emotional and Powerful Prayer While at the Oscars

Meagan Good and her husband, DeVon Franklin recently proved that prayer has no venue restrictions as they shared a powerful one during their Oscars outing.
The 91st Academy Awards held on Sunday, and while most reports from the event have to do with red carpet appearances, award wins, speeches, etc. Good and Franklin picked the opportunity to bless their fans.
In a video shared to Franklin's Instagram page, the pastor/producer and his actress wife are seen in a near-empty hall at the Dolby Theatre where the Oscars took place.
It appeared the ceremony was yet to begin and the Christian couple chose that moment to sow a seed of prayer into the lives of their fans.
THE PRAYER
"Dear heavenly Father, we pray right now for anyone watching this prayer, dear Lord, that they would know that their time is coming," said Franklin as he and Good shut their eyes in prayer. "Someone right now is frustrated, angry, mad, because they think that their time is passed, but right now we are praying that divine timing is taking over their life."
He continued:
"Let them not be worried or frustrated or angry, but to trust that when it is time for them to be on the platform or the stage you've created, it would happen. Let them get in position. Let them show up. Let them not doubt you, dear Lord, but let them trust you right now. We pray that you will break the stronghold of frustration and in its place, out peace, put destiny and put preparation, dear Lord. Somebody watching this prayer right now is about to go to another level and take them there in your time. Let them know that your time is your time, and let them relax and let it all come to them, in the name of Jesus we pray. "
"Praying for your frustration right now," Franklin captioned the post which has over 500,000 views. A repost of the video on The Shade Room has close to four million views with thousands of Instagram users chiming in their "Amen."
FUN AT THE OSCARS
Besides engaging in the spiritual exercise, Good and Franklin also made sure to strut their stuff on the red carpet.
The "Think Like a Man" actress shared several adorable photos of the pair, including one where they shared a kiss.
Good, 37, looked ravishing in a single-strap purple dress featuring sheer paneling and a thigh-high slit. Her 40-year-old husband looked equally dashing in a black tuxedo.
SIX YEARS STRONG
Good and Franklin have been married since 2012 after meeting on the set of the 2011 film "Jumping The Broom."
Although naysayers predicted that their union wouldn't last a year because the two remained celibate until marriage, the reverse seems to be the case.
Last October, the "Produced By Faith" author traveled 9,967 Miles from Los Angeles to South Africa where Good was filming a movie.
Why? His wife needed him there.
THE TRUTH ABOUT MARRIAGE
Despite being considered by many as marriage goals, Franklin remains honest about the reality of marriage and what it takes to make things work.
During a recent appearance on ESSENCE's "Yes, Girl" podcast, he revealed:
"I personally put a lot of time and effort into saying: 'How can I become a good husband and be a good husband to her?' and she puts a lot of time into how to become and be a good wife to me."
Please fill in your e-mail so we can share with you our top stories!