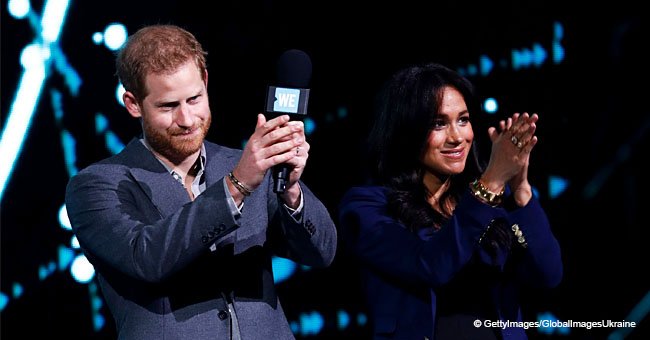 Prince Harry Surprises 12,000 Students by 'Dragging' Meghan on Stage and the Crowd Goes Wild

This Tuesday, Meghan Markle and Prince Harry reconfirmed that they are the ideal couple in the middle of a public act where complicit looks and affection were present.
It was enough to know about Meghan Markle's courtship with Prince Harry so that the whole world could turn to look at them and witness a passionate romance that they themselves have made it even more visible.
Harry was giving his speech at WE Day, an event that honors young leaders, which took place at the Wembley Arena when he suddenly invited his wife to the stage, who had no choice but to go out to meet him.
The Duke quoted one of Martin Luther King's favorite phrases: "Darkness can't expel darkness, only light can do it, hate can't drive out hate, only love can do it."
Then he confessed his next action, amid the cheers of the students who listened to him with attention. "I'm going to try to drag my wife on stage."
Meghan came out from the backstage evidently excited and with signs of shyness wearing casual clothes: tube pants, black shirt and a blue jacket that brought elegance to the outfit, she also wore her hair loose with prominent waves.
Once her wife was on stage, Harry continued, "Change your thoughts and change the world, dare to be part of the greatest generation of all time, I am with you, we are with you," the duke finished during the event that proves once again that the empowerment of women and the fight against inequalities are very serious issues for royalty.
The expectation about the sex of Prince Harry and Meghan Markle's first child grows as the date for which the Duchess of Sussex's delivery is scheduled for the end of April approaches.
Last week a rumor arose that according to a friend close to Meghan, the royal couple was thinking of raising their child in a neutral way and without gender roles so that when he grows up he or she will choose his sex, a piece of information that the Palace of Kensington has hastened to disprove.
Everyone is really excited for the duchess pregnancy and Meghan is the most excited one, she even got a tattoo to celebrate her pregnancy journey during her visit to Asni in the Atlas Mountains region of Morocco.
The tattoo which is said to celebrate the health of both mother and child according to Moroccan tradition added grace to Meghan's already beautiful skin. It is sure that the duchess loved the tattoo which she patiently sat for minutes before it was completed.
Please fill in your e-mail so we can share with you our top stories!