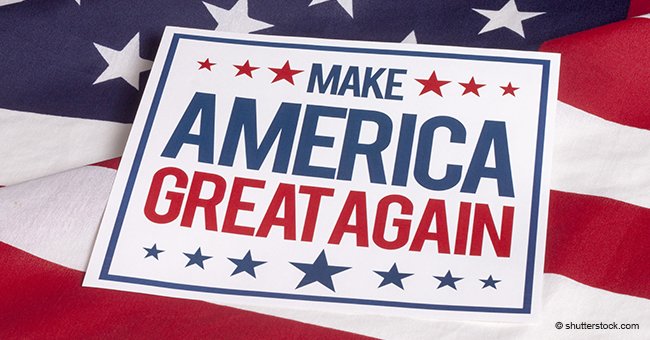 Students Allegedly Asked to Leave School Because of Their MAGA Clothes, Pro-Trump Flag on 'USA Day'
Students at Perry High School in Gilbert, Arizona, were allegedly punished for expressing their political views on campus. It's claimed that the students were asked to leave the school for carrying a Trump sign and wearing "MAGA" clothing.
The alleged incident that occurred last Friday during lunch has lead to Republican lawmakers taking action.
Perry High School officials have denied that their students were recently punished for expressing their political views. Principal Dan Serrano responded to concerned parents explaining that the students were carrying a President Donald Trump sign on the day.
Serrano stated that the sign caused a disruption and created a safety concern. The children were also said to be wearing Make America Great Again (MAGA) clothing as well.
The principal further explained that the children brought out the signs after school once again and refused to leave school grounds or show their ID cards effectively contravening the school handbook. The school's police resource officer asked the students to leave.
Now in retaliation, Republican lawmakers in Arizona have asked the state's attorney general to investigate the matter. On Monday, House Majority Leader Warren Petersen sent a letter to Arizona Attorney General Mark Brnovich asking him to investigate whether or not the faculty at the school violated students' free speech rights.
There were claimed that the administrators ordered the children to remove the Trump clothing and accessories. The alleged incident happened during a spirit day that had the theme "Party in the USA."
The letter, which was signed by 26 Republican lawmakers, read:
"Given that the free speech of all U.S. citizens is guaranteed in the First Amendment to the United States Constitution, we ask that you, as the state's chief legal officer, examine the facts of this case to ensure that the rights of these students were not infringed upon."
Brnovich's spokesman, Ryan Anderson, said the attorney general was looking into the matter. Anderson stated, "We received the letter. We'll look at all of the facts. We just don't know enough about the situation right now."
Brnovich shared that his office had reached out to the Chandler Unified School District as well. On Wednesday he said, "We would like to get to the bottom line to see what's happening."
He added,
"Reserving judgment, we just want to make sure that if people are being punished, discipline is being done in an consistent [sic] and a fair manner."
A parent named Jennifer Farris whose children attend the high school revealed that her children were among those who were disciplined. She explained that the teenagers were wearing "MAGA" hats and sweatshirts.
Farris added that they were also caught taking pictures with a pro-Trump flag when they were brought to the office and told to leave campus. When she heard the news, she drove to the school and within four minutes of her walking into the office, she was told to leave.
Farris claimed school officials told her she wouldn't be allowed on campus again. She shared, "As soon as they realized I was protecting my daughter, they were immediately rude, dismissive and told me to get off the property."
A mother of one of the implicated students also shared her views. Heidi Jones said:
"I feel bad for these children. I don't agree with everything our president does or says, but I respect our country and I'll support these kids using their freedom of speech."
School district spokesman, Terry Locke, confirmed that one student was suspended but failed to clarify if it was due to the same incident that occurred on Friday.
The Hyde is a new bar that opened last month in Hyde Park. Its owner, Jovanis Bouargoub, has placed some rules like no phones, no Cubs fans, and no Trump supporters.
The "House rules" were pinned to the door of the bar in the lower level of 5115 S. Harper Ave.
Please fill in your e-mail so we can share with you our top stories!