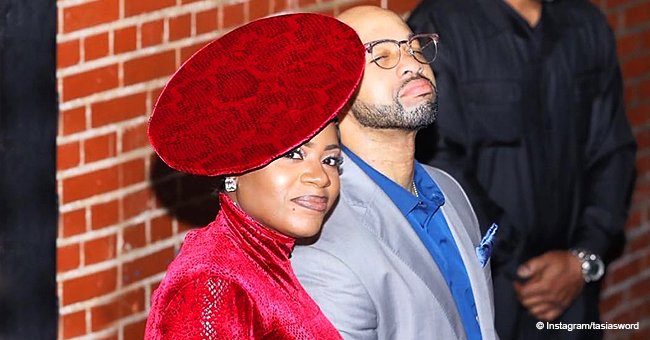 Fantasia Flaunts Stunning Figure in Red Velvet Dress & Matching Hat in Recent Pic with Husband

Fantasia Barrino, best known for winning "American Idol," took to Instagram to share a photo wearing a stunning outfit posing next to her husband.
The singer has been married to Kendall Taylor, a businessman, since 2015. Their ceremony took place aboard a yacht, and both of them chose white outfits to say "I Do."
From that point on, the couple has been winning over the internet with photos and videos of them doing different activities and just living their best lives.
RED VELVET DRESS
One of the singer's most recent pics is proof of that. Fantasia appeared wearing a red velvet dress that covered everything from her hands to her neck. Her number had little shiny details all over it that perfectly matched with her hat.
Kendall, on the other hand, opted for a light grey suit with a blue shirt that made him look both elegant and sharp. For the caption, the singer wrote the conversation the couple had before the pic was taken.
"Ken- Mad funny how they looked over us? Me- I'm so Glad they did Baby cause now it's all Ours. Say Cheese!"
As soon as Fantasia uploaded that image, her followers took to the comment section to share their thoughts.
"YOU are gorgeous in your RED it's poppin! Yassssss hunny," [sic] one user commented.
"Y'all look so nice! You're ROCKING that hat Queen," pointed out a second follower.
"Beautiful picture pretty hat and pretty dress beautiful Fantasia," admitted another person.
HER OUTING WITH SON DALLAS
Fantasia has had two children so far: son Dallas and daughter Zion. However, Kendall is not the father of any of them. Recently, the singer uploaded on her Instagram account a "date" she and her seven-year-old son had.
In the now-deleted pics, Fantasia appeared wearing a dark blue and pink hoodie and glasses flashing her smile at the camera. Dallas was sitting next to her wearing a Captain America outfit.
Next to them, a kid wearing a Spider-Man suit and another lady named Lex, was probably the other boy's mother, were also posing for the photo. For the next shot, Dallas and his Spider-friend appeared striking their best superhero poses.
HER STORY WITH DALLAS' FATHER
Dallas is the result of a tumultuous relationship between Fantasia, her ex-boyfriend Antwaun Cook, and his wife Paula. In August 2010, Paula filed for divorce and also sued Fantasia for dating Antwaun during a year even though she was aware of their marriage.
Paula brought up the subject of alienation of affection laws in North Carolina. Thankfully for the singer, the judge ruled in Fantasia's favor in December that year, stating that Paula and Antwaun had ended their relationship in September 2009.
In 2010, Fantasia announced she was pregnant with her second child but didn't disclose who was the father, although fans assumed it was Antwaun, and they were right. The man and Paula eventually got back together, and he and Fantasia are on good terms while co-parenting Dallas.
Please fill in your e-mail so we can share with you our top stories!