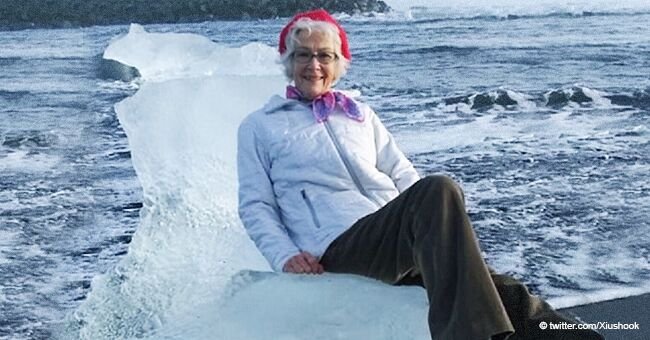 Iceberg Queen: Elderly Woman Drifted out to Sea after Posing Dangerously on an 'Ice Throne'

A 77-year-old woman found herself swept out to sea in Iceland while taking a holiday photo.
Judith Streng from Flower Mound, Texas, was having the time of her life on a trip to Iceland with her son, enjoying the sights and the Northern Lights.
The 77-year-old grandmother ended up biting more than she could chew on her icy adventure, and her holiday snaps have gone viral on Twitter.
"It was shaped like an easy place to sit... I thought that looks like fun. When I got on it started to totter and a wave was coming in, a very large wave came in and made the throne kind of rock and I could tell I was slipping off."
GRAN DECIDED TO SIT PRETTY ON AN ICE THRONE
Streng and her son were enjoying Iceland's famously beautiful landscape when they visited Jökulsárlón Lagoon, a glacial lagoon filled with icebergs from the surrounding Breiðamerkurjökull Glacier.
It was one of these icebergs, conveniently shaped like a throne that tempted Streng to play the Ice Queen and hop on for a photo opportunity.
Streng's granddaughter shared her holiday photos on Twitter and the Texas gran is now a social media star.
SWEPT AWAY ON AN ICEBERG
Streng was happily smiling and posing on her ice "throne" when an unexpected wave swept in and carried her off into the middle of the lagoon.
The lagoon is connected to the Atlantic Ocean, and the adventurous granny was in real danger of being swept out to sea.
SLIDING ON A SLIPPERY SLOPE
To Streng's horror, she wasn't just being swept out to sea, she was also starting to slip on her precarious perch on the throne shaped iceberg. She was facing a possible dunking in the icy waters, and the very real danger of hypothermia.
'
RESCUED FROM AN ICY DUNKING
Luckily for Streng, one of the bystanders was from the coast guard and adept at sea rescues. He leaped into action and saved the intrepid granny from a dip in the freezing waters of the glacial lake.
All's well that ends well, and to Streng's surprise, she not only survived her icy adventure but became something of a celebrity, known all over the world as the "Ice Queen,"
Streng's granddaughter shared her holiday photos on Twitter and the Texas gran is now a social media star.
ICE MUMMIES OF THE NORTHERN LIGHTS
Judith Streng was lucky to be rescued or she might have suffered a similar fate to that of a caribou calf and a wolf pup found recently in Canada.
The two animals were found preserved by the ice in Dominion Creek, and carbon dating indicates that they died 50,000 years ago.
The animals are believed to be the oldest mummified flesh, skin, and hair in the world. The caribou is a partial mummy, with the head, torso and two front limbs, but the wolf pup is intact and looks as if it is asleep.
In a related story, It's so cold outside, even the little puppy wants to get closer to a heater with its tiny paws.
Please fill in your e-mail so we can share with you our top stories!