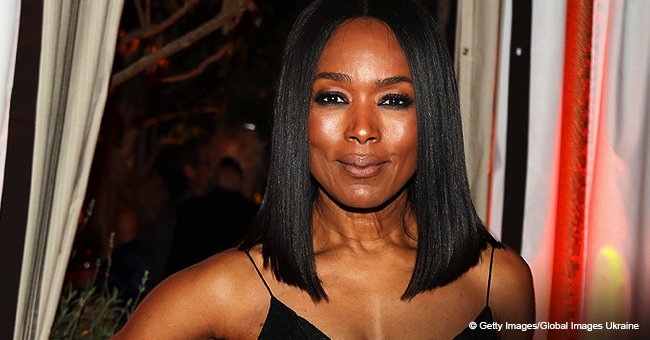 Angela Bassett Shares Why She Loves Being a Black Woman, Lists the Things She's Proud Of

Angela Bassett is proud to be black, and she's not keeping quiet about it. The iconic actress recently opened up about what she's most proud of as a black woman and how knowledge of her roots keeps her grounded.
Bassett, 60, has made a name for herself in Hollywood, portraying strong, black, female characters, the recent popular ones being the Queen Mother in "Black Panther" and Sergeant Athena Grant in "911."
But reveling in her black heritage goes beyond the cameras, and in a recent phone interview with MadameNoire, Bassett gave fans insight into what she loves about being a black woman.
"Our resilience. Resilience. Our comradery. Our truth-telling. Our flavor. Our passion," she said. "All those things make me proud."
The "Panther" actress added firmly:
"And I best be proud because there's nothing else I can do about it! I best not deny myself but embrace myself."
TRUE TO HER ROOTS
Bassett's pride is forged by strong roots that go as far back as when she was a girl. She and her sister were born in Harlem but moved with their mother to St. Petersburg, Florida after their parents split.
Bassett recalled being "raised by a Black woman," one of the things that help her stay grounded today.
"Remembering where I come from. Remembering whose I am. Remembering what it is I'm here to do. You know, I'm a Black woman, raised by a Black woman in a country that doesn't always recognize the strength, the power, the beauty of the Black woman, but it's there. I know my history. I know how much we've survived and how we've maintained in this country and it's awe-inspiring to me. The resilience pushes me forward."
BASSETT'S FOUNTAIN OF YOUTH
Beyond inspiring countless people with her film roles, Bassett also continues to portray what many would easily call "body goals." At 60, the award-winning actress boasts of youthful skin and an impressive muscle tone, but she'll be the first to tell you it has little to do with exercise.
In a 2018 interview with Net-A-Porter, Bassett agrees to having a personal trainer but claims to only work with him when she's home in LA.
"I'll try to get to the hotel gym and do 30 minutes of cardio, and lift a couple of weights or something," she revealed of her travel exercise regimen. "But I'm not getting up at 4 am to workout. …I'm regimented and rigorous about what I'm eating. Diet is 85% of the whole thing for me."
RED CARPET GLAMOUR
The technique seems to be working just fine for Bassett, who was again the cynosure of all eyes at the Oscars Red carpet last month. As usual, she turned up on the arms of her fellow actor husband, Courtney B. Vance, and looked stunning in a hot-pink single-strap dress.
Bassett and Vance, 58, met as students at the Yale School of Drama and did not start dating until they reconnected many years later. The duo tied the knot in October 1997 and welcomed their twins -- son Slater, and daughter Bronwyn -- via surrogate in 2006.
Please fill in your e-mail so we can share with you our top stories!