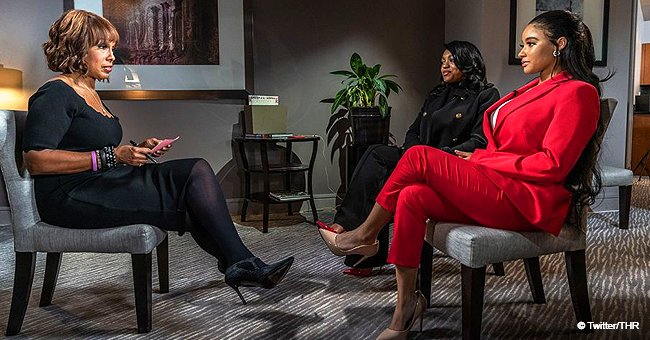 R. Kelly's Girlfriend Contacts Her Family after Singer's Interview Insisting She Is 'Very Happy'
One of R. Kelly's girlfriend, Joycelyn Savage finally got in touch with her estranged family after the singer's eccentric interview with "CBS This Morning."
The Savages finally heard from their daughter, Joycelyn since their last contact with her in 2017. Although it is not what they had expected, it was still a blessing to speak to the young lady after so long and know that all is well.
According to the family's attorney, Gerald Griggs, Joycelyn reached out to her parents and sister in a video call placed through him. On Grigg's Twitter page where he shared the news and video, he wrote;
"We hope that today was the first step to re-establishing a loving relationship with her family."
During the call, the 23-year-old whose parents were one of the many who featured on the TV series, "Surviving R. Kelly" repeatedly told her family she is happy, and that she chose to stay with the controversial singer who is currently being charged for multiple counts of aggravated sexual assault.
Her parents during the show pleaded with the singer to release their daughter and let her come home after claiming Kelly has brainwashed Joycelyn. Now, it seems like she called to set the notion straight.
"I have told you guys a million, million times that I am OK where I am and I'm happy, so I just want to let you know that," Joycelyn said during the call.
Although Joycelyn's conversations seemed rehearsed with multiple repetitions of the word "a million times," things changed when her 18-year-old younger sister, Jailyn got on the phone.
The 23-year-old went silent for a while before telling Jailyn she loved her. Then Joycelyn asked for the phone to be returned to her parents where she repeated the same prepared message from earlier.
Joycelyn Savage is one of the two R. Kelly's alleged "sex slaves." The second of the pair, Azriel Clary's parents also came forward to appeal for the return of their child.
The duo has both come out to emotionally share their stories with the world and set straight the confusing perception most people have of the singer. With claims that he is a good man who is only misinterpreted, Joycelyn and Azriel insisted they are happy and chose to be with the star. This interview will be aired by CBS This Morning, but the news agency shared a short clip of what is to be expected.
Please fill in your e-mail so we can share with you our top stories!