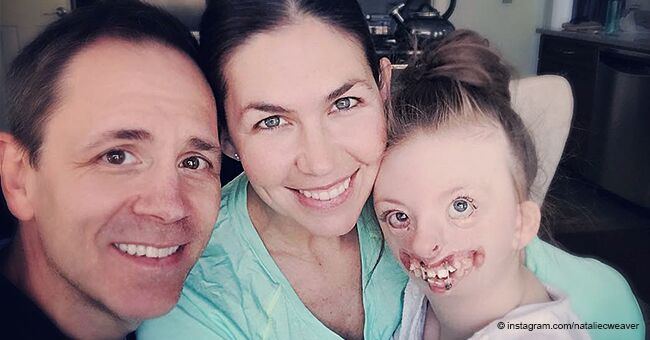 Woman Shuts down Those Who Used Her Disabled Daughter to Promote Abortion
Natalie Weaver boldly responded to social media users who used photos of her disabled daughter to promote abortion.
She posted photos on Twitter of her nine-year-old daughter Sophia and shared about their life.
Disabled people are often subjected to name-calling and mockery, especially with the advent of social media.
"I realize that I have to share a lot of the bad things that go along with Sophia's conditions and fighting for her life, but today I'd like to share who Sophia really is. She isn't her disabilities and she isn't her diseases," she captioned one of Sophia's photos.
Sophia suffers from Rett disease, which affects her ability to eat, speak, walk and breathe. She is also suffering from type 1 diabetes and an undiagnosed syndrome that causes facial disfigurement.
A HEART-BREAKING TWEET
Recently, Natalie received a shocking tweet that used her daughter's photo to promote abortion. It broke her heart.
The tweet reads: "It is okay to think that every child matters however a lot of them do not hence the amnio test which should be a mandatory test and if it proves negative and the woman does not want to abort then all bills accrued after that is on her and the father."
Disabled people are often subjected to name-calling and mockery, especially with the advent of social media.
Natalie blocked the account and reported the tweet to Twitter's management.
But she didn't expect the social media platform's response. Twitter said that the tweet did not violate their rules and regulations. But she didn't give up. With the support of many of her followers, Twitter's Support admitted their mistake and suspended the person's account for posting the photo. They apologized for their error.
FIGHTING FOR PEOPLE WITH DISABILITIES
Natalie later found out that Twitter's forms that are used when reporting a tweet do not include hate against people with disabilities.
She now advocates for the inclusion of hate against people with disabilities in Twitter's violation reporting.
"It's been very difficult. I've had days where I'm just crying. It's interesting I shared my story with a reporter because I wanted to put pressure on Twitter to have the person who was promoting eugenics and using my daughter's image, I wanted them to take it down and I never imagined it would go viral like this," she said in a recent interview.
She continued, "It's been difficult because this man was using my daughter in a hateful vile way, which has now led to other reporters from right-wing media groups to change the narrative to fit their devices, agenda, they lie which opened me up to more attacks. So, a story about hate and attacks on my child has now to led to more hate and attacks on my child."