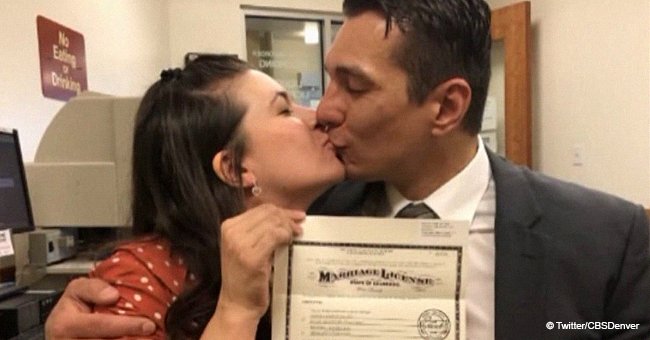 Utah First Cousins Decide to Leave the State to Get Married Because Its Illegal There
Angie and Michael Lee are first cousins, her dad, and his mom are siblings, but they went against all the odds and got married in Colorado avoiding the stricter laws in their hometown of Utah.
Their love story began in second grade with Michael stopped Angie's mother just to tell her, "I'm going to marry Angie." She, of course, told him that was not possible but allowed them to be friends.
The pair, who remained in love with each other through the years growing up, found more chances to see each other at family reunions and vacations. Angie's dad is the oldest brother of Michael's mom.
But the bold move happened after reuniting ten years later, both unattached, and still in love. Angie recalls the moment,
"We're like, ok, this is crazy, but we're adults now, and we're single now, we're just going to go for it, and you know, who cares what our family thinks."
Faced with two major obstacles, genetic issues, and the Utah state law, which does not allow first cousins to marry unless they are 65-years-old or 55-years-old if they can prove they are infertile.
Research shows that the offspring of first cousins have a four to seven percent chance of a genetic disorder. Of this, Michael says,
"The genetic consequences, the biological content consequences are very small. It's more, you know, what people might think and say."
Overcoming their first hurdle, they went to Colorado to get married.
However, returning home to Utah would mean the validity of their marriage would not be acknowledged. So the couple began a petition to gather signatures to appeal the change in the law in Utah, explaining,
"My first cousin and I have been in love with each other our whole lives, but we are prohibited from marrying in the state of Utah where we live. We believe that the law is outdated and it needs to be changed so that we can socially legitimize our love."
Because the law regarding marriage between first cousins varies from state to state, Angie and Michael hope that their public stand on the issue will make a difference in their hometown, saying,
"We would like to have enough exposure to where we can go into a congressman or senator, someone with political clout and present a case sound enough to get the law changed."
The Washington Post shared through the National Conference of State Legislatures that there are "twenty-four states that prohibit marriage between first cousins, twenty states, plus the District of Columbia that allow cousins to marry, and six states that permit first-cousin marriage only under certain circumstances."
Famous people in history that married their cousins include Charles Darwin, Albert Einstein, Franklin and Eleanor Roosevelt, Thomas Jefferson, and Edgar Allan Poe.
The science of genetics shows that the law against cousin marriages protects future generations from the complexities of too much shared genetic material which can increase birth defects in the long run.
Please fill in your e-mail so we can share with you our top stories!