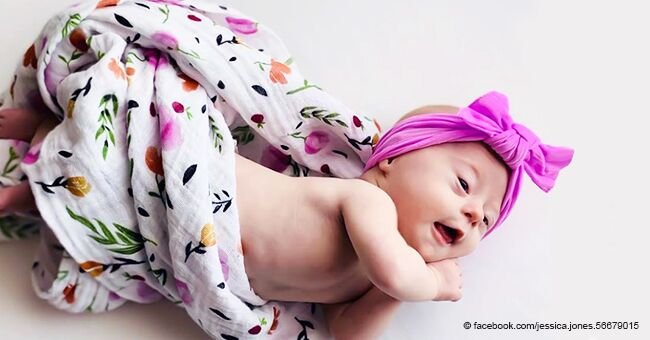 Mom Posts a 'Review' of Her Daughter with Down Syndrome Saying She Would 'Purchase' Her Again

Jessica Egan wrote an uplifting "review" of being a parent to a child with Down syndrome, saying she "would purchase again for sure."
Egan, 31, from Salt Lake City, Utah, took to Facebook recently to share a candid "review" of her daughter, Gwendolyn, who is two months old and has Down syndrome.
After years of trying to conceive, Egan and her husband were thrilled to discover she was pregnant with their first child.
In her post, she explained how her little girl's diagnosis is a chromosome "upgrade," and nothing to be pitiful about.
"When I placed my order I said, "Regular amount of chromosomes, please!" That's what everyone else got and what I wanted too. They called me shortly after my order was in production and said "Great news, we went ahead and upgraded you to extra chromosomes for free! You'll receive the extra chromosomes with your completed order in 9 months," Egan wrote, adding:
"What?! I was mad! All the other orders I had seen displayed via perfect Instagram posts did NOT have extra chromosomes. Well I decided that receiving my order with extra chromosomes was better than not receiving an order at all, so I settled in to wait for this surprise upgrade to arrive.
"I have now had my order for two months and am writing this review to let others know the upgrade to extra chromosomes is amazing!! If offered, definitely take it! I posted some photos below of the finished product and you can see the extra chromosome is so worth it - it is extra cute, extra special, and extra-ordinary! So much extra joy. Would purchase again for sure."
Her post rapidly became a web sensation, getting over 75,000 shares and over 30,000 remarks from other parents whose children have Down syndrome.
After years of trying to conceive, Egan and her husband were thrilled to discover she was pregnant with their first child. But when she was eleven weeks pregnant, she got a prenatal diagnosis of Down syndrome.
In an interview with Mamamia, Egan confessed she was crushed to learn her little girl had the disorder.
"In that moment I felt extreme devastation," she said. "All I could think when I received the diagnosis was that my baby wouldn't be as accepted and celebrated as everyone else's had been. From three sets of twins to Down syndrome?… I spent the next three days at home in tears, afraid to tell anyone the news."
However, something changed over the next weeks and months. Egan and her husband decided to reach out to their local Down syndrome foundation, where they started educating themselves about the diagnosis.
The couple realized that Down syndrome was nothing to fear. When Gwendolyn was born, they were overpowered with adoration for her.
Please fill in your e-mail so we can share with you our top stories!