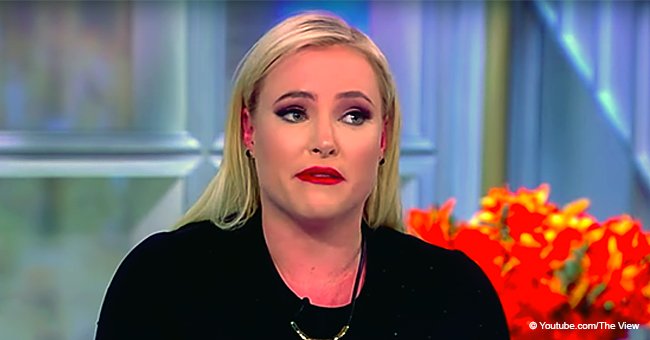 Meghan McCain Slammed for Crying during Debate over Ilhan Omar's 'Blatantly Anti-Semitic Rhetoric'
Meghan McCain, after tearfully reacting to Ilhan Omar's latest controversial remarks is accused of crying "crocodile tears" by the same people she's trying to defend.
"The View" panelist Meghan McCain became highly emotional when a recent segment of her show delved into the latest controversy involving Democratic representative Ilhan Omar's alleged anti-Semitic comments.
OMAR'S CONTROVERSIAL REMARKS
Omar was at a bookstore event last week when she suggested that US politicians were being forced to "pledge allegiance to a foreign country." She was referring to the relationship of the US to Israel.
Soon after, the Muslim lawmaker was criticized on Twitter, chalking up her latest remarks as another anti-Semitic move on her part since this is not the first time she was called out for such comments. This also prompted Congress to pass an anti-hate resolution on Thursday which covers anti-Semitism and other forms of bigotry against minorities.
MCCAIN'S RESPONSE TO OMAR'S COMMENTS
Simultaneously, McCain gave her two cents worth about Omar's remarks on her show.
"This issue is a really intense one for me," she said before explaining that "anti-Semitism shouldn't be a left or right issue."
"With the rise of anti-Semitism in this country, is it more important to defend party politics, or is it more important to defend anti-Semitism?" she asks.
"We can have conversations all day long about how you feel about Palestinian politics, Israeli politics, how you feel about (Israeli Prime Minister Benjamin) Netanyahu. … I just present this question, which may be an uncomfortable one: If what Ilhan Omar has been saying for the past few weeks were said by a white Republican male, how would you be reacting to it right now?"
McCain was visibly agitated after her co-host Sunny Hostin, who admitted she had a Jewish grandfather questioned whether Omar's remarks were indeed anti-Semitic. She suggested that the accusations against the Minnesota representative may stem from the Republicans' "selected outrage" to distract people from the real issues.
"Are we comfortable with me rebutting now?" McCain asks after her co-hosts prohibited her from interrupting Hostin earlier. Then she began to enumerate a list of things Omar said and asked, "Why this obsession with Jerusalem and Israel?"
At one point when the majority of the panel seemed to disagree with her and slammed the Republicans for calling Omar anti-Semitic when she was just speaking her mind, McCain became emotional. She tearfully stressed that even if she doesn't have Jewish ties, former Congressman Joe Lieberman and his wife who she treats as her family make this an issue that concerns her.
"Just because I don't technically have Jewish family that are related to me doesn't mean that I don't take this seriously and it is very dangerous, very dangerous and I think we collectively as Americans on both sides – what Ilhan Omar is saying is very scary to me."
THE BACKLASH THAT FOLLOWED
While McCain became very emotional speaking her mind, viewers were displeased. One Twitter user accused her of "using crocodile tears to portray Ilhan Omar as "scary"." Moreover, it seemed the Jewish community she was defending didn't appreciate her speaking for them.
"The most offensive thing to me as a Jew is seeing Meghan McCain blubber while saying she's terrified of Ilhan Omar on my behalf," tweeted Molly Crabapple.
Nicole Silverberg chimed in.
"meghan mccain will never, could never, is not PERMITTED to speak for jewish people. we don't want you or your "zionism" (wtf) and we certainly don't want your teary, hideous islamophobic bullshit. speak for yourself, and then work on yourself, babe."
Mehdi Hasan even went as far as bringing up McCain's father, the late John McCain to remind her of his own "scary" actions.
"Meghan's late father literally sang 'bomb bomb bomb Iran' and insisted on referring to his Vietnamese captors as 'gooks'. He also, lest we forget, gave the world Sarah Palin. So a little less faux outrage over a former refugee-turned-freshman-representative pls."
More tweets followed accusing McCain's father of being anti-Semitist himself.
"remember when John McCain made Fred Malek national finance co-chair of his 2008 campaign—a man best known for literally counting Jews at the bureau of labor statistics on orders from Nixon b/c Nixon thought a "Jewish cabal" was doctoring employment numbers"
"I wonder if Meghan McCain cried when her dad used the term "gook," which he openly refused to stop doing. I think that term may be triggering to some people. Especially since he, like, helped kill them."
Meanwhile, a Jewish cartoonist made fun of McCain's emotional reaction on "The View" and drew a cartoon of her crying on the show. This time, McCain fired back.
"This is one of the most anti-Semitic things I've ever seen. Also, this reveals so much more about you than it does me."
She also responded to Omar who retweeted Hasan's comment earlier.
".@IlhanMN retweeting trash like this is beneath a sitting member of Congress, as is her blatantly anti-Semitic rhetoric. The Democratic Party looking the other way only helps Trump's re-election efforts in 2020..."
MCCAIN VS. MALLORY
This is not the first time McCain was embroiled in a controversy involving her views against anti-Semitism. She also earned the ire of Women's March leader Tamicka Mallory who accused her of being a "white woman yelling" at her during the show. McCain appeared to take offense at Mallory who was a guest on "The View" after the latter praised notorious anti-Semite Louis Farrakhan. Mallory clarified that she was not lauding the man for his anti-Semitist views but rather for what he has done for African Americans, a distinction she said was lost on McCain.
Please fill in your e-mail so we can share with you our top stories!