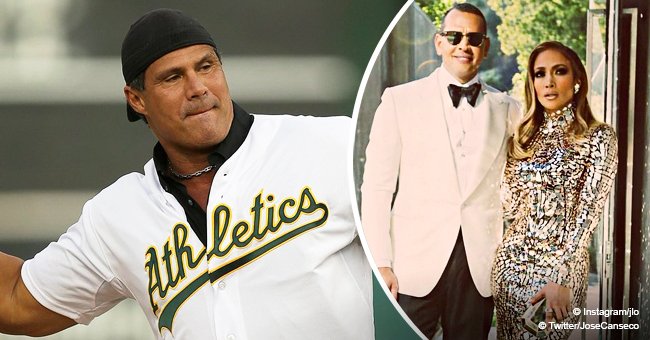 Jose Canseco Claims Alex Rodriguez Cheated on Bride-To-Be Jennifer Lopez

Jose Canseco — former MLB star — on Sunday night, accused Alex Rodriguez of cheating on Jennifer Lopez with his ex-wife in a series of tweets.
A lot of people will remember Jose Canseco as a former MLB player who admitted to using steroids during his career. He was also popular for his far-reaching balls and home runs.
He played for the "New York Yankees" along with Alex Rodriguez, and apart from the latter admitting to also using steroids when he played, the two have nothing in common.
Jose recently started tweeting a lot about his former teammate, Rodriguez and his (Rodriguez) soon-to-be wife, Lopez.
The tweets started when the former baseball player was watching Jennifer Lopez on "World of Dance" where she serves as a judge. At 2:03 am, he tweeted that his former Yankee teammate was cheating on the award-winning singer with Jessica Canseco.
The 54-year-old expressed sympathy for J.LO, whom he says is unaware of her fiancée's unfaithfulness. Three minutes later, in another tweet, he claimed to have been with his ex-wife when a call came in from Rodriguez.
Before calling it a night, Canseco tweeted:
"Alex Rodriguez stop being a piece of shit stop cheating on Jennifer Lopez."
Then, he challenged the former professional baseballer to a duel. There has been no response yet from the engaged couple.
Conseco, however, is not new to controversy and bad press. In 1997, the same year his marriage to Jessica ended, he got arrested on battery charges. The baseball star had attacked his ex-wife after an argument, and police report showed he banged her head several times.
Before this incident, he rammed his Porsche into the BMW of his first wife, Esther Haddad; this also brought bad press and a few weeks of community service.
The "Love Don't Cost A Thing" singer and Rodriguez just celebrated their second anniversary, while on a romantic getaway in Baker's Bay got engaged. The 43-year-old posted a photo of the multi-million dollar ring on Instagram with the caption,
"She said yes."
It is unknown if this is the beginning of a feud between the trio, but it's not farfetched to say that Conseco won't be getting an invite to the wedding.
Please fill in your e-mail so we can share with you our top stories!