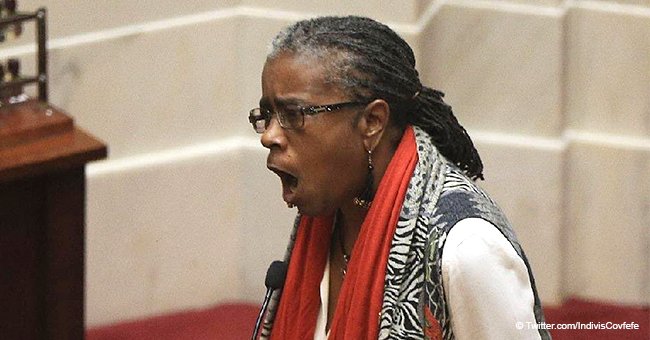 'You Are Not Going to Silence Me,' Sen. Stephanie Flowers Rails against 'Stand Your Ground' Bill
Stephanie Flowers, the lone Black senator in an eight-member committee delivered a powerful speech as she opposed a bill in an effort to defend the Black community. "What the hell you going to do, shoot me?" when she refused to give in to a Senator who tried to interrupt her speech.
Arkansas State Senator Stephanie Flowers stood her ground when she opposed the passing of a bill allowing citizens the free will to use lethal force in self-defense.
"Senator s***. Go to hell, I'm telling you, this deserves more attention."
Speaking not just a legislator but an African-American mother who saw the "stand your ground" bill as a danger to the Black community, Flowers explained she cannot support any law that would put her son in harm's way.
"It doesn't take much to look on the local news every night and see how many black kids, black boys, black men are being killed with these 'stand your ground' defenses that these people raise, then they get off. So I take issue with that," the Democrat legislator told the State's Judiciary committee on Wednesday.
She also brought up the fact that she is the only Black member of the eight-member committee making her decision to move for the further evaluation of the bill even more important for her.
"I'm the only person here of color, OK? I am a mother, too. And I have a son. And I care as much for my son as y'all care for y'alls. But, my son doesn't walk the same path as yours do, so this debate deserves more time."
She went on to say that since moving to Arkansas, she's had to worry about her son, something not any of her peers in that room who support gun toting could understand.
"You don't have to worry about your children. . . . I have to worry about my son, and I worry about other little black boys and girls. And people coming into my neighborhood, into my city, saying they have open-carry rights walking down in front of my doggone office in front of the courthouse. That's a bully!"
As she attempted to continue with her speech, committed chairman Alan Clark interrupted her and told her "Senator, you need to stop talking."
This prompted Flowers to clap back and say, "No, I don't!"
"Yes, you do," the Republican senator retaliated after which Flowers returned with another "No, I don't!"
"What the hell you going to do, shoot me?" she added.
When Clark still appeared to prevent her from speaking, Flowers put her foot down and said,
"Senator s***. Go to hell, I'm telling you, this deserves more attention."
The heated exchange resulted in Flowers exiting the room to smoke a cigarette. When she returned, her speech proved victorious. The committee voted against the bill with a 4-3 ratio. She managed to sway one Republican to her corner as well.
Flowers got a glowing response from those who saw the clip of the hearing which went viral. It became even more relevant because her popularity soared just around International Women's Day.
Despite the success of her recent speech, Flowers is still up against another battle as the bill is intended to be revisited on Monday. Its primary sponsor hopes to get one more "yes" vote then to even the score.
Meanwhile, it's understandable why Flowers would be hesitant to push for this bill. There have been many cases in the past when the use of guns took the lives of innocent Black people.
In a March 2019 report by Every Town Research, it reveals 100 Americans are killed every day with guns. One-third of these deaths are homicides and Black Americans represent the majority of its victims. Statistically, "Black Americans are ten times more likely than White Americans to die by gun homicide," it claimed.
There have also been a lot of cases of Black men killed by the police without due process. A recent incident involved the shooting of a Black man in an Alabama mall when he was mistaken to be a gunman by the police. Emantic "EJ" Bradford Jr. was shot three times by a police officer who assumed he was the cause of a mall shooting after seeing him injured and carrying a gun. It turns out EJ was approaching an injured friend carrying his gun so he could protect him for further danger. But police who saw him carrying the gun suspected otherwise.
Bradford's death caused outrage but did nothing to get him justice. The policeman who killed him was not charged and was deemed within his rights to kill Bradford thinking he posed danger. However, the young man's family thinks he was merely a Black man carrying a gun and was immediately suspected to be a threat when he clearly wasn't. The real gunman was apprehended making the situation even more painful for Bradford's family.
Please fill in your e-mail so we can share with you our top stories!