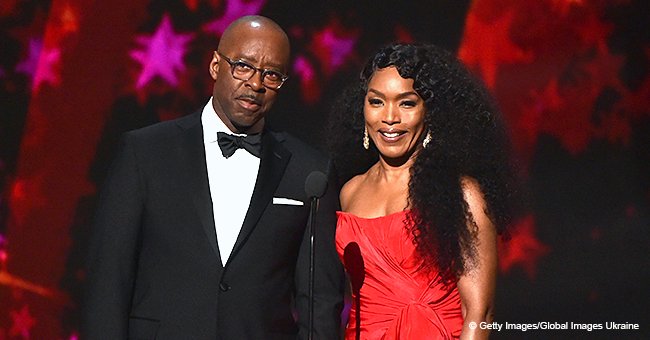 Angela Bassett Steals the Show in Gorgeous Red Dress at Aretha Franklin Grammy Tribute Concert
Angela Bassett wowed in red as she took the stage with her husband during the televised tribute concert for Aretha Franklin. See photos of astounding appearance that night.
Angela Bassett is 60 but she registered nowhere near that age during her recent appearance at Aretha Franklin's tribute. The actress stunned in a strapless red gown that did more than flaunt her fabulous body and ageless beauty.
Bassett graced the stage on Sunday along with her husband Courtney B. Vance during the televised CBS special for the late Queen of Soul. The couple introduced Yolanda Adams and rapper Common who entertained the audience with their riveting performance of "Young, Gifted and Black."
Wowing viewers that night, the "Black Panther" star looked impeccable wearing a red gown with ruffles gathered around her tiny waist. She allowed her long frizzy hair to flow freely over her toned and bare shoulders. It's evident that she takes care of her fitness as she stood next to her husband of over twenty years.
Bassett's latest appearance is a reminder of a recent event where she also stunned in red. The actress attended the Woman's Day 16th Annual Red Dress Academy Awards and looked glorious in a plunging red gown.
But Bassett's impact isn't limited to her looks. In fact, her aura exudes a brand of confidence that most likely stems from her pride in being a Black woman. She recently told Madamenoire that she willingly embraces her heritage because there is so much to love about being a Black woman.
"Our resilience. Our comradery. Our truth-telling. Our flavor. Our passion," she enumerates, are the qualities that make a woman of color like her stand out.
Armed with her belief in the power of Black women, the actress makes sure she depicts this in the characters she portrays in her films -all strong women. It began with her iconic role as Bernardine Harris in the 1992 film, "Waiting to Exhale." She also proved she could snag a younger man in 1998's "Stella Got Her Groove Back," and did justice to the fiery Tina Turner when she portrayed her in "What's Love Got To Do With It." Her most recent role as Queen Ramonda in "Black Panther" seals her distinction as a class act. She portrayed a Black woman ruling an entire empire, what could be more powerful than that.
Bassett is certainly going down in history as one of the most memorable actresses in her generation, not just because of her ageless glow but more importantly, her powerful performances inspired by her belief in the strength of her roots.
Please fill in your e-mail so we can share with you our top stories!