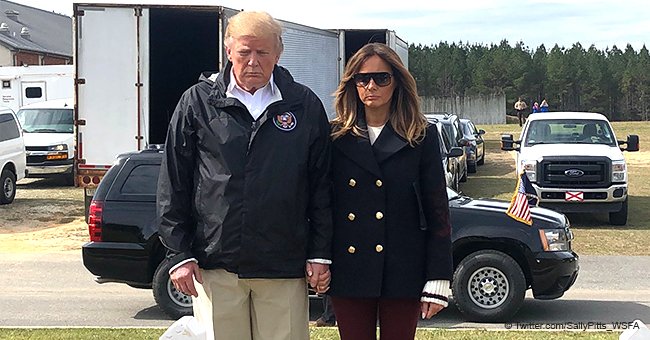 Melania Trump Photos from Alabama Tornado Visit Reignite Conspiracy Theories of Body Double
The #FakeMelania theory is back following a recent photo of the First Lady with Donald Trump at a memorial in Alabama. Tweets abound suspecting Melania's body double was standing next to the President.
Could Melania Trump be using a body double? This seems to be the question being raised by a resurfaced theory involving the First Lady and her alleged stand-in.
Back in October, Twitter was abuzz over a controversy surrounding Melania and what appeared to be someone else who looked like her attending an event with her husband Donald Trump.
In a clip tweeted by a man named Joe Vargas featuring the President speaking to reporters with the First Lady beside him, Vargas doubted that the woman standing next to POTUS was the real FLOTUS.
"This is not Melania. To think they would go this far & try & make us think its her on TV is mind blowing," he wrote.
Soon after, many latched on to his theory which gave rise to the hashtag #FakeMelania.
The First Lady's office denied the insinuation and deemed it a "ridiculous non-story." However, it seems the case is far from closed. A recent appearance of Melania and her husband honoring victims of a deadly tornado in Alabama forced the theory to resurface.
In a photo shared from that engagement, a serious-looking Melania wears sunglasses and stands next to the president with her mouth appearing different and her height shorter than usual.
This spawned another wave of doubt concerning her authenticity, bringing back the notion that the First Lady has a double who stands in for her whenever she prefers to stay away from her husband. Suspicions were also high that the woman who portrays her on occasion is her Secret Service agent who has a striking resemblance to her.
Here are the latest tweets that emerged resurrecting the #FakeMelania theory.
But like most shady theories like this, there is an explanation that later disproves it. In this case, other photos from that appearance revealed it was in fact, Melania with the president that day. Further, her shorter height was due to her use of flat shoes on that occasion, one of the rare times that she did. Thus, it is safer to conclude that she doesn't have a body double.
While there is no fake Melania standing in for the First Lady during official functions, there was a fake Melania who mocked her last year.
Comedian Laura Benanti was hired by James Corden to impersonate Melania during a fake interview on his show. Speaking as Melania, Benanti had the audience in stitches as she addressed the issue of the termination of national security adviser Mira Ricardel. Of course the mock interview was all in the spirit of fun but Benanti could certainly have us fooled with her uncanny resemblance to the First Lady.
Please fill in your e-mail so we can share with you our top stories!