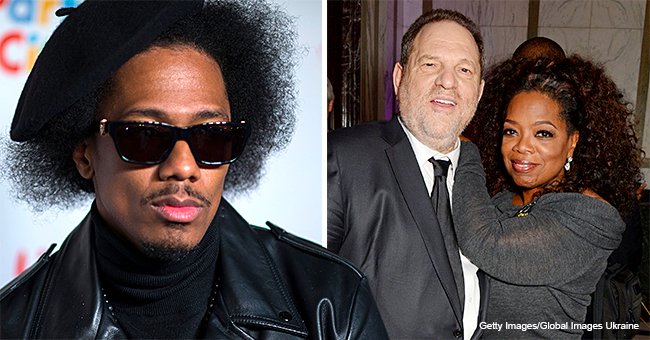 Nick Cannon Shades Oprah's Association with Harvey Weinstein after Her Interview with MJ's Accusers
Nick Cannon decided to throw some shade at Oprah Winfrey after she interviewed Michael Jackson's sexual assault accusers, reminding everyone that she was once a Harvey Weinstein apologist.
Nick Cannon seems to have a problem with Oprah interviewing the late King of Pop's accusers on her show, as he tried to shift the spotlight to Harvey Weinstein, the infamous Hollywood producer who was accused by multiple Hollywood actresses of sexual harassment, assault, and rape. Currently, he is under indictment in New York City on five felony charges of sexual misconduct.
On Instagram, the TV host posted a photo of Winfrey kissing Weinstein on the cheek, with a large text in bold red and white letters reading, "Hey "y'all, what time does surviving Harvey Weinstein come on???"
His major shade at Winfrey and Weinstein came after the billionaire interviewed Wade Robson and James Safechuck, who are the main sources of information for the HBO documentary "Leaving Neverland" which aims to shed light on Michael Jackson's sexual abuse and pedophilia when he was still alive.
It's not just Nick Cannon who's blasting Oprah over the interview, as a lot of social media users feel the same way. Michael Jackson's loyal fans were not pleased by this move by the famous TV host and were angered when Winfrey decided to interview his accusers.
In the interview clip, Oprah could be heard saying "Leaving Neverland" goes far beyond Michael, as it speaks about a larger societal issue, particularly sexual abuse. While she does not say whether or not she believes the two accusers, her interview was still enough to put her on a bad spotlight with loyal Jackson fans.
Now that more and more heat is building up on Oprah's camp, people are waiting to see whether or not she will be releasing a statement about the matter.
Please fill in your e-mail so we can share with you our top stories!