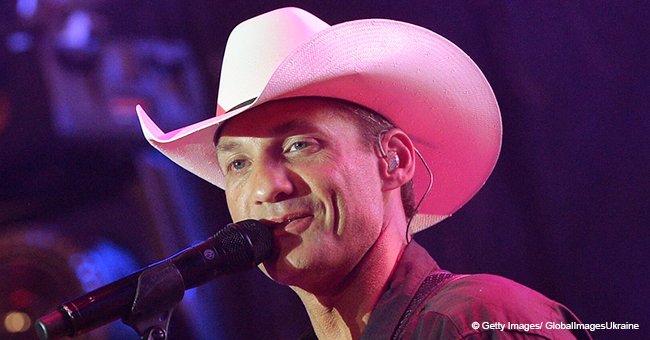 Wade Hayes Beat Cancer for the 2nd Time and the Advice His Doctor Gave Him Was Priceless

Wade Hayes has fought against cancer not once, but twice. The singer was first diagnosed with stage 4 colon cancer in 2011 and was given little chance of survival. He did it, he survived only for cancer to come back a year later.
Now, Hayes once again enjoys cancer-free life and is determined to make the most of the future he has been given. He wrote "Go Live Your Life," which became the main song on his 2015 album after his oncologist told him how odd it was that someone with a cancer diagnosis like his lived.
Hayes knows he is here for a reason and is determined to make the most of every day he receives. The Oklahoma native also has a song, "Who Saved Who," about his rescue dog, Jack, who was with Hayes at every step of his recovery.
"Music is very powerful," Hayes told Pop Culture: "I have to play, write songs and play the guitar to make a living, and I've been very fortunate to be able to do it, so if I can help someone in some way, through a song that I've written, I'm really interested in that. "
"He told me: 'It's just a miracle that you're still alive, there's no cancer,'" Hayes recalled. "You have to go live your life." And I really took his words seriously, and I had to write that song, think about it, this life is flying for us and we have no guarantee for the future, I was 41, 42, and it was too much. I had cancer, but not only I had it, but I was about to die, most people did not [live], everyone in my group there in Vanderbilt died, except me. Yes. Attention It's an amazing thing, I'm glad to be here."
"I'm trying to take all these things into account, and really, I'm really trying to figure out what I'm supposed to learn from things," Hayes said. "Why am I still here? And the only thing I can imagine is to tell my story ... Maybe with a song like 'Who saved who,' let someone know that there are more weirdos who love their dogs like me, and let's just identify and tell them that there are many of us out there, we all suffer from the human condition."
"We are all dragging this flesh around," he added. "We all have problems, so if I can help someone in some way, then that's what interests me these days."
Colon cancer is one of the most prominent and dangerous forms of cancer. It starts with the buildup of polyps along the wall of the colon; as these polyps reproduce, they present the patient with serious digestive problems.
Knowing the symptoms of colon cancer and understanding your risks may prevent this cancer from happening to you, or help you catch it as early as possible.
Please fill in your e-mail so we can share with you our top stories!