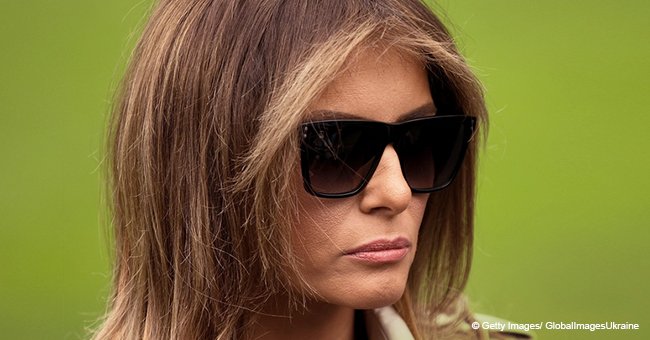 Melania's Aide Blasts 'The View' for 'Laughing in the Face of Tragedy' over #FakeMelania Theory

The spokeswoman for the embattled wife of US President, Melania Trump, blasts an American chat show for propagating supposed fake news of Melania using a body double.
Over the past few days, Twitter has been boiling and bubbling with the hashtag "FakeMeliana" forcing a lot of awry comments from users.
The hashtag started when photos of the condolence visit of President Donald Trump and his wife to victims of a devastating tornado in Alabama surfaced. Online trolls and critics say there exist some differences in the looks of the woman with Trump and his wife, Melania.
Interestingly, some of the photos making the rounds are visibly photoshopped photos of various celebrity bodies and the head of Mrs. Trump.
"The View" aired the story and the different conspiracy theories related to the #FakeMelania trend. Sunny Hostin, a co-host on the show, had this to say about the trending photos of Mrs. Trump:
"Melania is a very tall statuesque woman. Look how short she looks."
This sparked the fury of the presidency, and Melania's aide, Stephanie Grisham has disclosed the displeasure, saying "The View" chose to laugh in the face of the tragedy in Alabama.
The President and wife have visited some of the areas that were affected by the tornadoes. During the visit, Melania showed support for the bereaved families and promoted her campaign against bullying tagged "Be Best."
Her aide, Ms. Grisham, recently called out the critics who engage in the use of the "FakeMeliana" hashtag with the statement:
"Once again, we find ourselves consumed with a ridiculous non-story when we could be talking about the work the First Lady is doing on behalf of children, including the opioid crisis that is gripping our nation."
Melania is not the first First Lady to be accused of posing a double in public. In 2016, various loyalists on social media accused Hillary Clinton of being represented by a fake.
A recent happening in which Melania Trump mistook former Foreign Minister of Australia, Julie Bishop for the wife of a politician has also caused many to lay a claim to the #FakeMelania trend.
Please fill in your e-mail so we can share with you our top stories!