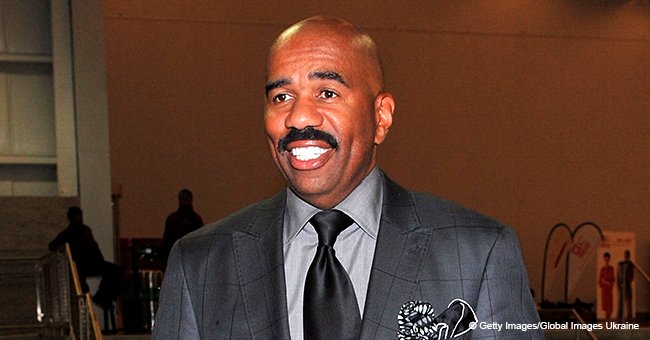 'I Have the Cholesterol Levels of an Infant,' Steve Harvey on How Beyoncé's Diet Changed His Life
Steve Harvey brags about his lowered cholesterol levels after shifting to a vegan diet popularized by Beyonce and Jay-Z. The funnyman opened up about his health in a sit down with vegan expert Marco Borges.
Steve Harvey has taken a "leaf" from Beyonce's book and he's quite happy with the results. The talk show host reveals since shifting to a vegan diet, he now feels reborn.
Harvey sat down with famed vegan nutritionist Marco Borges whose New York Times Bestseller "22 Days Nutrition" details a plant-based diet that's gaining mileage due to his popular endorsers, Beyonce and Jay-Z. The couple has been employing his eating plan since 2013 and recently collaborated with him in the release of his 2018 book, "The Green Print."
Once a non-believer of the plant-based lifestyle, Harvey took a turn in January when he decided to take on the Carters' eating habits. Due to his change in diet, today he brags, "I have the cholesterol levels of an infant."
"Let me tell you something. I've been doing this since January 4, I gotta tell you, I do feel a lot better," Harvey told his viewers during his interview with Borges.
"First and foremost, a plant-based diet is full of fiber, which helps to lower bad cholesterol, helps lower blood pressure, helps to lower your risk factors for diabetes, heart disease, dementia, cancer."
"It's the only diet in the world that has been clinically proven to not just prevent, but also arrest and reverse heart disease. No other diet in the world can say that," he explains.
As he discloses his infant-like cholesterol level, Harvey adds that they're now even lower than his cardiologist's.
Borges further explains that food can either be "fueling disease or feeding health" and that lifestyle and not disease determines our heredity.
"We are not at the mercy of our genes…Disease is not what's hereditary. It's the habits that are hereditary. So, change your habits and you change your destiny."
He adds that the diet not only helps oneself but the environment.
"The green print is about getting people to become more conscious into what they're putting in their body. Not just how it affects them but how it affects the environment and the world, basically their neighborhood. We wanted people to be more conscious about the fact that a plant-based diet is the single greatest thing you can do to reduce your carbon footprint."
For those who find it difficult to go vegan completely, Borges suggests a gradual shift by starting with one plant-based meal a day such as an oatmeal breakfast or plant-based protein for lunch.
And while Harvey is currently basking in the great effects of his vegan diet, it wasn't too long ago when fans worried about his health. During an October photo op with Magic Johnson where he was sporting a grey beard, fans wondered if he was ill.
It was especially alarming considering the comedian is known to be a fitness enthusiast. He launched a "50 and Fly" campaign when he was in his 50's to encourage men over the age of 40 to stay in shape. Last year, he also trended using the hashtag #60isthenew40 while flaunting his workout routine.
The commotion over Harvey's health may also have something to do with his beard which he decided to grow and keep grey over the summer last year. At the time he said he got tired of dying it and his wife seemed to like it too. The aging look may have fueled speculations of a health problem. But that changed when in February, he decided to shave off his beard and keep his trademark mustache.
Please fill in your e-mail so we can share with you our top stories!