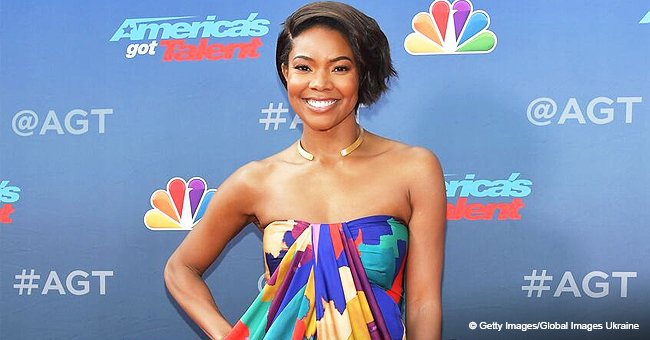 Gabrielle Union Glows in Colorful Strapless Dress as She Makes Her Debut on 'America's Got Talent'
"America's Got Talent" welcomes Gabrielle Union as one of their new judges and she dazzled the fans on the red carpet.
"America's Got Talent" fans were thrilled to see the ever-radiant Gabrielle Union on the red carpet, as she prepared for her debut as a judge on the talent contest.
Union's fans are excited by the star's new project, in which she will be joining Howie Mandell, Simon Cowell, and fellow newcomer Julianne Hough.
"One thing that Gabrielle and I bring is an empathy and a compassion , because we have been rejected many times, and we know what it feels like."
GABRIELLE UNION WOWED IN STUNNING PRINT DRESS
Union stepped out on the red carpet at the show's kick-off celebration for its 14th season in a stunning multicolored print strapless dress from her own Gabrielle Union collection for New York & Company which will be launched in May 2019.
Union accessorized with dainty open-toe gold sandals and a gold neck bracelet, with her piquant pixie cut swept over to one side.
Union and Hough are joining the show, and replacing judges Heidi Klum and Mel B alongside long-time judge Howie Mandell.
A NEW ADVENTURE WITH "AMERICA'S GOT TALENT"
For Union, joining "AGT" as a judge is a brand new adventure and an opportunity to nurture new talent:
"I love being a part of making dreams come true. As an artist who gets told no a lot, it's nice to be a part of saying yes to someone's dream."
UNION IS LOOKING FORWARD TO WORKING WITH SIMON COWELL
Union has revealed that she is looking forward to working with music mogul Simon Cowell and that she believes his notoriously harsh critiques are constructive and valuable for the performers:
"I don't generally disagree with most things he's saying, except perhaps tone-wise. But I like straight shooters, and when you are on the other side of the table, when people say no it's always helpful to know exactly what you can go home and work on. And he doesn't just say, 'No, you suck.'"
A BRAND NEW "AMERICA'S GOT TALENT"
Union and Hough are joining the show, and replacing judges Heidi Klum and Mel B alongside long-time judge Howie Mandell.
"You can never take anybody's spot. We're not here to fill anybody's shoes. We could never replace Heidi or Mel. I just feel so grateful that now we get to be here."
Also joining the "AGT" team is Terry Crews, who will be replacing Tyra Banks as the host of the popular talent contest,
MEL B AND HEIDI KLUM'S EXIT FROM "AGT"
Gabrielle Union and Julianne Hough are a coming into the panel of judges for "America's Got Talent" to replace long-time participants Heidi Klum and Mel B, who left the show after 6 years.
Both women have new projects, and hectic schedules that prevent their continued collaboration with "AGT."
Klum has a new reality show with Tim Gunn launching on Amazon Prime Video, and will be hosting "Germany's Next Topmodel".
Mel B will be touring with the Spice Girls on their reunion tour which starts in May and has several new projects up her sleeve.
ding new people and making changes," the source adds. "Also, Heidi, Mel B and Tyra [Banks] have major projects coming up that they need to focus on. There was no drama."
Please fill in your e-mail so we can share with you our top stories!