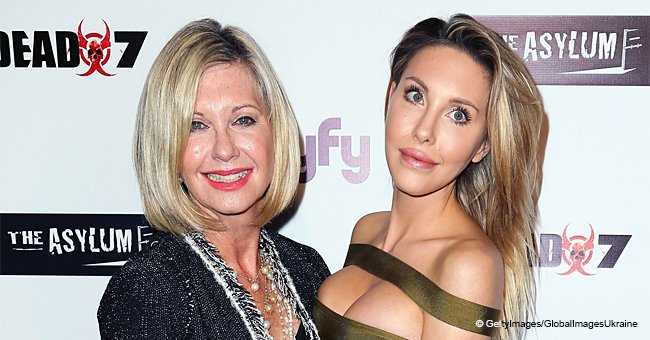 Olivia Newton-John's Only Daughter Is All Grown-Up but Is Still Very Close to Her Famous Mom

The "Grease" star Olivia Newton-John recently made headlines when her third battle with cancer got revealed. By her side is her grown-up daughter Chloe to lean on, and they are closer than ever.
Olivia's first breast cancer diagnosis came in 1992, six years after Chloe's birth on January 17, 1986. Her divorce from Chloe's father Matt Lattanzi followed in 1995 after eleven years of marriage.
To save her six-year-old daughter having to deal with her cancer diagnosis, Olivia never told her, but unfortunately found out another way as Chloe said:
"I was just six the first time she had cancer and mum never told me. Then we moved to Australia when she was in recovery, and one of the kids at school ran up to me and said. 'Your mother has cancer, and she is dying, haha.'''
https://www.instagram.com/p/BkijKIbHax_/
Her cancer returned in 2013, but she got declared cancer free once more. In 2017 Olivia got the news that her cancer returned for the third time, but kept her diagnosis private until late last year.
Growing up under those circumstances while being the only child of the iconic Olivia Newton-John took its toll on 33-year-old Chloe.
She followed her mother into the acting world and starred in several television films including, "The Wilde Girls," "Sharknado 5: Global Swarming," "A Christmas Romance," and "The Christmas Angel: A Story on Ice."Much like her mother, Chloe is a talented singer as well and released singles like "You Have me Believe," and "Play With Me."
https://www.instagram.com/p/BWY5mXljUL-/
The pressures of having to perform and being under scrutiny because of her iconic mother spun out of control. The party scene and substance abuse became her escape, but eventually, she had to face her issues and deal with them.
But for Chloe, her mother has always been her constant and hero, the one that was always there for her no matter what. She taught Chloe "the power of positive thinking" and they "both try to protect each other."
In 2011, Chloe's addiction reached the point where she had to postpone her wedding to James Driskill after a failed attempt to get clean. In September 2012 Chloe broke down and asked her mother for help.
https://www.instagram.com/p/BZhet14Al3I/
After Olivia enlisted the help of Celebrity Rehab's Dr. Drew Pinsky, Chloe spent seven months in a California rehab facility. During an interview with Woman's Day Chloe elaborated on how her substance abuse started:
"I started to get into the party scene, drinking every night, and then before long I got introduced to cocaine, and all of a sudden the combination of those things took away all the fear and depression, and that is when the cycle began."
Everything that happened in Olivia and Chloe's lives brought them closer together. With Olivia facing another cancer battle, Chloe is intent on being there for her mother as much as possible.
Amid recent concerns about Olivia's health and with her being so private, friend and fellow costar John Travolta gave an update about her condition to worried fans.
Please fill in your e-mail so we can share with you our top stories!