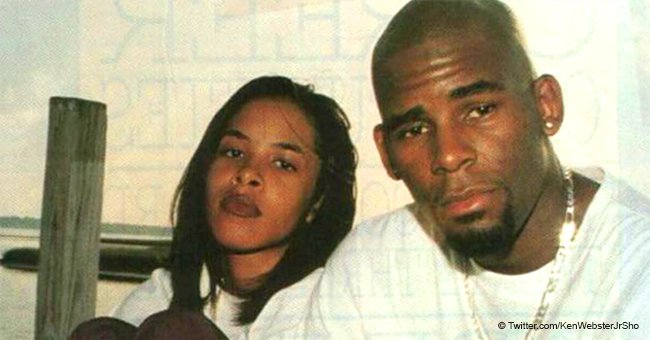 R. Kelly Accuser Claims Singer Told Her He Also Had Intimate Relationship with Aaliyah's Mother
Not only did R. Kelly knowingly marry an underage Aaliyah but he also slept with the late singer's mother, according to one of his accusers. Lisa Van Allen opens up about what the troubled musician confided in her while bonding over their common past of sexual abuse.
The R. Kelly saga has taken another turn with new allegations raised by one of his accusers concerning his association with Aaliyah. Lisa Van Allen reveals the singer also had sexual relations with Aaliya's mother.
In an explosive interview with VladTV, Van Allen, who claims she and Kelly bonded over their common past of being sexual abused, divulged that the singer opened up to her about his relationship with Aaliyah and her mother.
"He said he would go in the living room and him and her would do sexual acts on the couch while Aaliyah was sleep in the bedroom."
She said Kelly knew that Aaliyah was underage and even got her pregnant. He married her and doctored her age to avoid being accused of taking advantage of a minor.
"He told me that they were married that she was pregnant," she recalls. "That they did doctor up the marriage certificate to say that she was eighteen so they could get married. And the reason they got married was because they felt like if was married to her and if he said he thought she was eighteen, that he wouldn't be charged if someone found out she was pregnant until they were able to get the abortion and get it annulled."
While what Van Allen revealed isn't a surprise to many who are updated about Kelly's illegal affair with Aaliyah, she revealed a more shocking detail regarding the late singer's mother, Diane Haughton.
"He actually stayed at their home in Detroit and her mother was actually sexually attracted to him as well. And he said—now this is what he said, he said he would go in the living room and him and her would do sexual acts on the couch while Aaliyah was sleep in the bedroom. That's what he says."
Haughton previously denied allegations about Aaliyah and Kelly suggested by the three-part documentary, "Surviving R. Kelly." Meanwhile, Van Allen who was part of the film confessed she too was sexually abused by the singer.
During her recent VladTv interview, she also revealed that Kelly had confided in her about his own experience being molested by his older sister. Van Allen herself was abused by two friends of her foster parents in the past.
Her allegations come in the heels of Kelly's interview where he emotionally denied wronging these women. "Quit playing. I didn't do this stuff! This is not me!," he told Gayle King, insisting he was innocent.
Prior to the interview, Kelly was arrested after he was charged for sexually abusing four women in the past. Three of them were minors then. Kelly surrendered to authorities and stayed in jail a couple of days. It took a while for him to raise the bail money he needed for his release which was later facilitated by a woman who came forward and settled the bond.
Please fill in your e-mail so we can share with you our top stories!