Meghan Feels the 'Embryonic Kicking of Feminism' as She Shows up in a $345 Monochrome Dress
Wearing a striking $345 monochrome print dress, Meghan Markle said that she felt "the embryonic kicking of feminism" during a powerful event.
The Duchess of Sussex, 37, showed up as a part of a star-studded panel discussion on International Women's Day recently.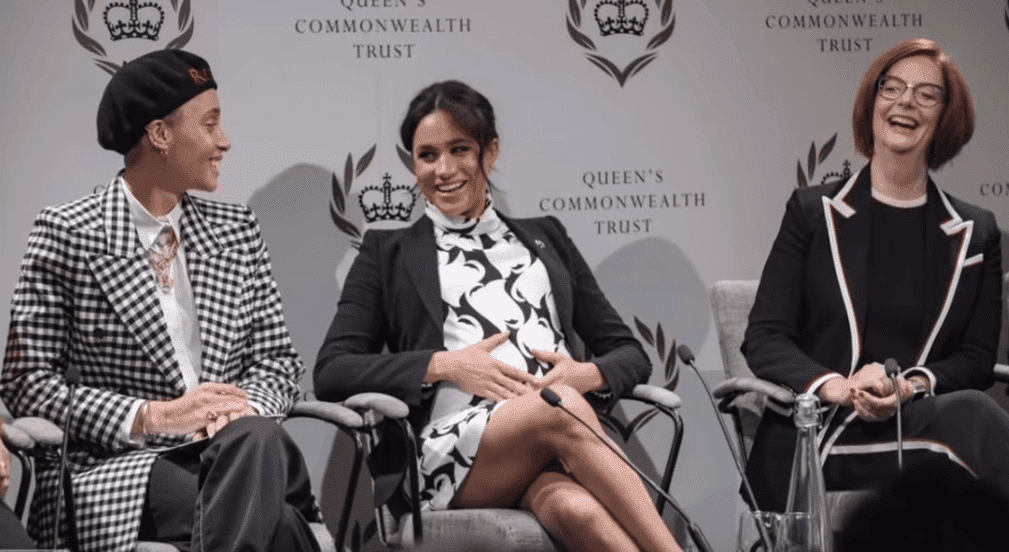 Her remark was an answer to a question about how her baby bump was treating her.
The occasion, held at King's College in London, was organized by the Queen's Commonwealth Trust. 
Meghan was joined by a board of prominent female thought leaders and activists to talk about different issues influencing current ladies. 
During the event, the soon-to-be mother said she would like her unborn kid to be a feminist, regardless of whether they are a girl or a boy.
"Its funny, I've actually been joking the last few weeks. I had seen this documentary on Netflix about feminism, and one of the things they said during pregnancy was I feel the embryonic kicking of feminism,'" she said. "I loved that, so boy or girl, whatever it is, we hope that that's the case with our little bump."
Her remark was an answer to a question about how her baby bump was treating her.
Despite the fact that the outfits were by no means the focal point of this occasion, Meghan is not a stranger to the value of dressing for victory. 
The Duchess sported a beautiful $345 Azzura swirl-print dress by Reiss. She topped it with a sharp black blazer by Alexander McQueen. She completed the look with a Manolo Blahnik BB Pumps and a Stella McCartney clutch.
Meghan and Prince Harry, who got married in May 2018, are expecting their first child. Meghan is due later this spring.
Speaking at an #InternationalWomensDay event, Meghan, the Duchess of Sussex, said the education of boys, as well as girls, is key to feminist progress. pic.twitter.com/5w0xmnSI67

— NBC News (@NBCNews) March 9, 2019
The royal couple has not revealed the gender of their unborn baby, but fans were convinced that it would be a little girl following Meghan's New York baby shower. 
This assumption by fans was based on the pink decorations and sweet treats seen at the affair. However, a range of neutral colors can also be seen at the event.