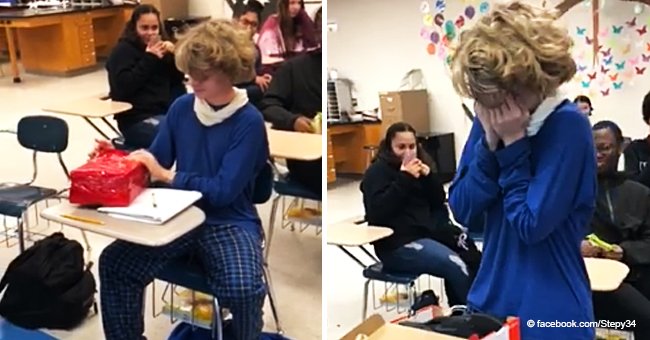 Bullied Teen Bursts into Tears of Joy after His Classmates Surprise Him with an Amazing Gift
Inspiring footage shows 15-year-old Azrael Robinson sheds tears of gratitude after his classmates presented him with a thoughtful gift.
Azrael, who attends LaVergne High School in La Vergne, Tennessee, had struggled in the past with bullies at another school.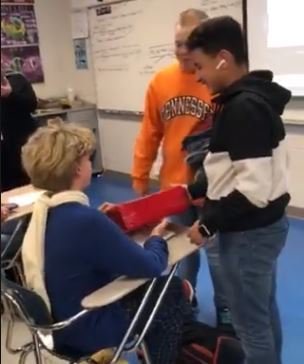 Azrael Robinson being surprised with lovely gifts and kind words | Photo: Facebook/Stephanie V. Myers
"You just never know what kids go through, but it's kids like them, that gives us hope."
His classmates appreciated him for his compassion towards others, so they made a decision to take action and cheered him up when they apprehended he seemed a bit depressed.
A HEARTWARMING VIDEO
In the viral Facebook video posted by a sibling of one of the students, Azrael can be seen being surprised with a new pair of Nike shoes. They additionally gave him new clothes alongside some money. The young man was overcome with emotion and began crying with appreciation.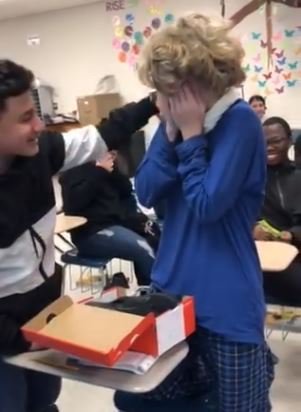 Azrael Robinson was moved by his classmates random act of kindness | Photo: Facebook/Stephanie V. Myers
"Today, my little sister sent me a video of what they did for one of their classmates, that's having a hard time," the uploader wrote.
"They all got together and bought him some shoes, and also donated clothes to this kid. This video is so emotional & filled with love. You just never know what kids go through, but it's kids like them, that gives us hope."
One of the students told Azrael that they'd presented him a few things because of how charitable he is, how great of an individual he is, and for all that he does. Azrael said thank you to his classmates, and one of them even offered him a warm embrace.
EMOTIONAL MOTHER
In an interview with Today, Azrael's mother, Traci Robinson, said that her child started to cry when she picked him up from school. She was instantly worried, given her son's history of being bullied at a previous school.
But Traci also became very emotional when Azrael told her the astonishing thing his classmates had done for him.
"Even just knowing that this had happened, I bawled all the way home," she said.
Bullying has taken away many young lives. A lot of parents have asked for stricter measures against bullying at school in recent years.
Please fill in your e-mail so we can share with you our top stories!