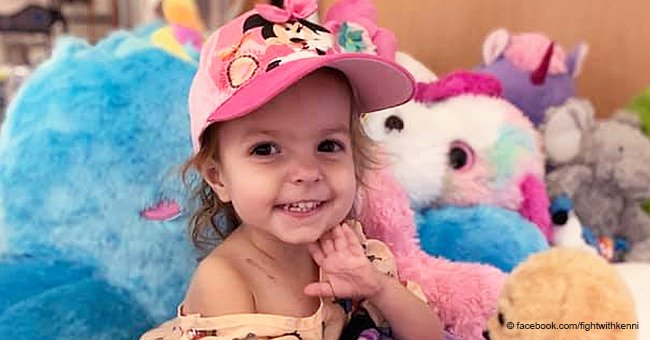 Brave 2-Year-Old Girl Battles Ovarian Cancer in an Incredibly Rare Case
A family was left in shock after their 2-year-old daughter was diagnosed with ovarian cancer.
The toddler, McKenna Shea Xydias "Kenni", was diagnosed with ovarian yolk sac tumor on February 15. Her case is extremely rare and its cause is unknown.
Kenni's family is determined to raise awareness about her condition after her diagnosis.
In an interview, the toddler's dad Mike Xydias shared how they felt after his daughter's rare condition.
"The immediate reaction was, 'How could this happen?'" Mike Xydias, a dad of three from Senoia, Georgia, shared.
"I knew of this being [more common] in women. I didn't realize that it could happen to such a young kid."
The parents took Kenni to a hospital after her stomach started protruding. After her pediatrician told them she had gas and would be fine within a day, the parents were relieved.
However, Kenni's condition only became worse as her belly grew bigger the following day. She had high fever and her concerned mother Meagan rushed her the pediatrician.
"They said it was gas but I kept saying, 'Something's wrong. It's not gas. Something's not right'," she said, before taking her to the Children's Healthcare of Atlanta's Scottish Rite hospital.
An ultrasound revealed a mass growing on Kenni's ovaries and the results of her CT unveiled multiple tumors on her abdomen.
Her diagnosis left the worried parents gutted since they thought it was a mere case of constipation or growth spurt.
Since the rare type of cancer normally affects females aged 10 to 30, Kenni's case is one of the rarest in the world.
The heartbroken parents, who take care of their little princess in every way possible, set up a GoFundMe page for her treatment.
We try to take every day one step at a time, but having to consider how these tumors and consequential chemo will potentially affect Kenni in the long run, forces us to look at the big picture as well,' Mike wrote on the page.
A yolk-sac tumor is a type of Ovarian Germ Cell Tumors (GCTs) and accounts for 25 percent of all ovarian tumors including benign ones, 20 percent of which are cancerous.
While ovarian cancers may appear in any age, Kenni's case is a rare one because of her young age.
Some symptoms of ovarian cancer are abdominal bloating, pelvic cramps, change in urination, constipation, weight loss, lack of appetite, and irregular menses amongst others.
Please fill in your e-mail so we can share with you our top stories!