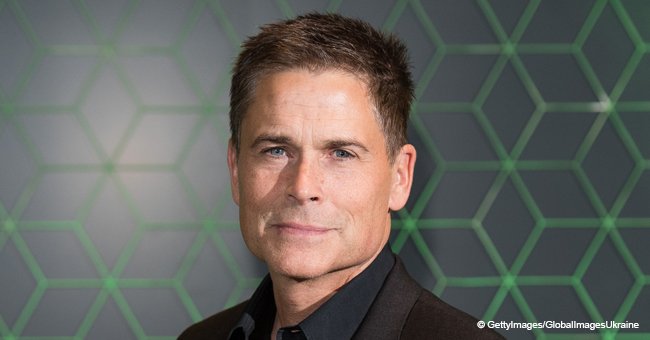 Rob Lowe Shared His Pride in His Kids Amid College Admissions Scam, but Then He Deleted His Post

Dozens of people, including Hollywood actresses Felicity Huffman and Lori Loughlin, were indicted for paying millions in bribes to get their children admitted to prestigious American universities.
Many other stars have felt the need to throw some shade at the issue on their social media or those of their children. On Monday afternoon, John Lowe, 24, first approached the shocking scandal on Twitter, where he talked about his own experience preparing for college applications.
John Lowe wrote that he was disgusted that students who deserved it could miss the opportunity to attend a dream school by those who cheat.
He shared a picture of his graduation day with his father and actor Matthew, a Duke graduate, and wrote: "Still proud of this achievement. Happy for all who won their achievements ... and really sad for those who never had the opportunity."
And on Tuesday, his father, Rob Lowe was among the stars who felt the need to publicly comment on the news while defending the achievements of their own children educated in college. However, he later deleted his post.
Prosecutors charged that the defendants allegedly paid bribes of up to $ 6 million for their children to enter elite universities, such as Yale, Stanford, Georgetown and the University of Southern California.
This is a serious crime, classified as a conspiracy to commit mail fraud and fraud of honest services or functions, as revealed by the court documents presented before the court of that state.
Although at first it was indicated that both celebrities had been arrested, later the United States Attorney's Office for the District of Massachusetts dismissed this version, clarifying that Lori is currently out of the country, so she has been contacted by the authorities to return and surrender.
The recently uncovered scheme involving a total of 33 parents, law-firms and private organizations, with bribes going from $200.000 to $6.5 million. The procedure included faking athletic resumes or SAT scores.
Lori Loughlin allegedly did this with her two daughters, 20-year-old Bella, and 18-year-old Olivia. Felicity Huffman did it with her older daughter with actor William H. Macy, 18-year-old Sophia, an aspiring actress.
Please fill in your e-mail so we can share with you our top stories!