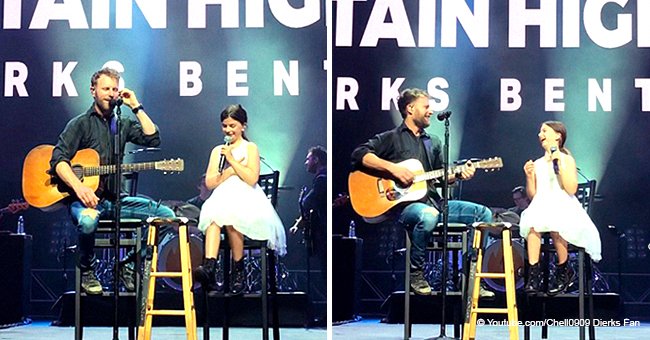 Dierks Bentley Sings with His Little Daughter on Stage and Their Duet Is Pure Gold
Dierks Bentley's 10-year-old daughter gave him a treat and a surprise. While he performed on stage at his final concert of 2018, she came on and sang his verses, much to his delight and shocking amazement.
Since releasing his very first album in 2003, "Drunk on a Plane" crooner Dierks Bentley has continued to wax strong each passing year. His career has taken many by surprise, but his 10-year-old daughter, Evie served her father one surprise that he may not have seen coming.
Dierks finished off 2018 in a lovely way with his last performance at his 2018 Mountain High Tour, but he had a helping hand in Evie.
After announcing to the audience at the Oklahoma venue of the concert that they would have a special guest, Dierks' daughter Evie stepped out on stage in a beautiful white dress and sat beside her father.
The singer then began to sing his soulful tune, "My Religion," and to his surprise and that of the excited audience, Evie takes over and begins to sing all by herself.
Dierks who was in awe of his daughter's singing prowess tried to stop her from singing a verse of the song that was about drinking, but she didn't stop, and delivers a captivating rendition of the whole verse, leaving daddy in shocking disbelief.
Father and daughter finally come together to perform a wondrous duet. The little Evie showed no stage fright all through her smooth performance, smiling all through, while her happy father watched her with all sense of pride. At the end of the performance, both of them do a high five and Evie then follows it up with a bow for the cheerful audience.
This is not the first time that Evie has joined her father on stage. She first appeared on stage with Dierks in 2012 when they performed his tune, "Thinking of You." She does indeed have the talent of her father!
If you are a lover of Dierks Bentley and his beautiful music, then here are a few facts you may not have known about him:
His first name is Frederick
He taught himself how to play the guitar when he was 13.
Dierks is brilliant and a graduate from Vanderbilt University.
He worked for The Nashville Network, which was his first job in the media industry.
He is the youngest inductee into the Grand Ole Opry.
Hockey is his favorite sport.
He is married to Cassidy, his high school heartthrob and they have three kids Jordan Catherine, Evelyn Day and Knox.
And one new fact that you just learned is that his oldest daughter Evelyn can sing as much as her dad.
Please fill in your e-mail so we can share with you our top stories!